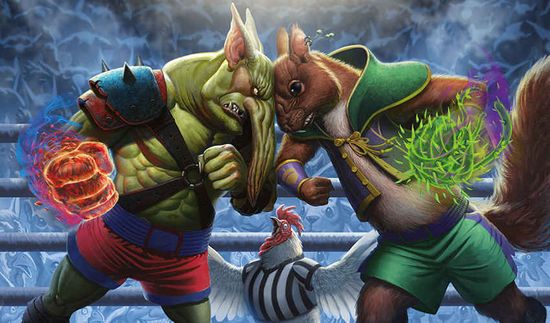 Unsanctioned box has no space for decks with sleeves
It is not possible to store your deck with sleeves
By Leon, 03/02/20, with help from our readers
Unsanctioned is a complete gaming experience in a box. The box contains five 30-card decks, 150 cards in total. Overall, you receive 16 new cards, 74 reprints and 10 basic full-arts lands (five of them are foils). The product is costing an average of $60.00. Most of the cards have a silver border, which means that they are not legal in official tournaments, concentrating the greatest value of the set in the full-art lands. But, even though it is not a very valuable set, the experience of playing with different and funny cards is unique. Unsanctioned's proposal is to have fun and it manages to achieve that. The big problem lies in the way the product was presented. Many users have complained that Wizards of the Coast has made a box that you cannot store decks with sleeves.
The
reddit user SirManCub
comments:
"The box is also the exact same size as a KMC 1000 box which (possibly obviously) holds 1k sleeved cards. This can't even hold 150."
Another user commented:
"The thing is, with both Archenemy: Nicol Bolas and Explorers of Ixalan, they not only had enough space for sleeved cards - but they had (albeit flimsy) deck boxes for each deck. And in the case of Archenemy, it even came with Spindowns. So it's not like they haven't done it before; it's just that they chose not to for this product, which is baffling to me."
The product also does not come with a D20 die, as it normally did in previous editions. The die is great for counting life points and cards in this set like
Sword of Dungeons & Dragons
specifically asks you to roll a D20. Since there is not much value on decks, there is not so much sense in sleeves. Despite this, sleeves is a culture that is part of a Magic player, so complaints are understandable.