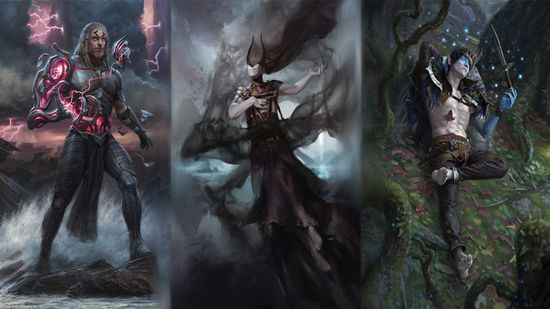 Magic: the Gathering
Casual
Who will be Magic s next big villain?
These are the main candidates to become the great villain in MTG's lore.
By InvoKando, 05/25/20, with help from our readers
Be aware that this article has SPOILER. If you are up to date with the lore or don't care about it, go on. After the Elder Dragon, Dragon God and Planeswalker Nicol Bolas lost his spark and was trapped in the meditation realm, the Magic's multiverse changed. First, because he no longer has a great villain. Second, because the last powerful entity of the ancient era no longer exists in this world. It's like taking the Superman out of Magic and now everyone is paired. Of course, we still have many powerful characters and some of them could become the new great villain of the multiverse. So, come with me to meet the candidates.
How about starting with the guy we talked about in our last theory. Oko, the planeswalker Fey. Oko, Thief of Crowns who hates kingdoms and everything that has a lot of rules, gave a lot of work to Eldraine's plane and early on he managed to control the cursed Garruk. He has the power to transforming his own body and others, and he transformed King Kenrith on an elk. His mission is to help others (the unfortunate, the ignorant, the weak, the young) to embrace their freedom and reject government rules. He also likes to disturb others by practicing very cruel "tricks". Ruining a wedding day, stealing the spotlight at the moment of someone's triumph, deceiving a mother into believing that her son has returned from a war, these are all great jokes in Oko's perspectives and with his change of form he can be anyone at any time. The worst of all is that he usually avoids having to deal with the consequences of his actions. Oko is the type of villain who wants to see the multiverse destroy itself just so that no one can control it, no one but him in the case.
Our second candidate for Magic's great villain is Ashiok, the nightmare planeswalker of unknown gender and origin. Ashiok is one of the darkest and most mysterious characters in the Multiverse. They have no upper face, eyes or nose. There is only black smoke emanating from where the mouth and upper lip ends. This black smoke swirls around their head, coming out of their body. Ashiok is able to achieve the dreams and fears that dwell within others. With this power, they can summon nightmares born of the darkest fears of people and shape them. They become servants of Ashiok, eager to please their master. Ashiok uses these servants to overthrow those who consider themselves untouchable and superior, believing that all beings are afraid and fear is the greatest equalizer of all. Over time, Ashiok's power took a physical toll. The magician's face eroded in smoky shadows. Nightmare threads swirl where a skull may have been. The fact that they are no longer needed is part of his enigma and is a testament to the unnatural power they wield. For a long time Ashiok has spread nightmares for Theros. Not even the Underworld was free of they. And their preferred victim is our knight Elspeth Tirel, who had such disturbing nightmares about Phyrexians that fascinated Ashiok, when they found out about the Phyrexians in Espelth's mind, the excitement was so great that Ashiok left Theros behind and went to witness what this nightmare plane was. In fact, recent facts are leading the story to New Phyrexia. I can't wait for a set revisiting this plane. Seeing Ashiok being more prominent in the story makes me happy, because they haven't had a remarkable lore moment yet. Even Oko already had it in Eldraine. Ashiok is always going through the stories of someone else, when their time comes, what nightmares will they have for us?
And since we're talking about New Phyrexia, let's talk about the last of the trinity of threats. The trinity of threats to the multiverse is based on the mention of Kruphix, who said that Nicol Bolas was as dangerous as the Eldrazi and Phyrexians. Emrakul is trapped on the moon and should not be leaving anytime soon, Nicol Bolas is without spark and without name, the only force that remains standing in the multiverse is New Phyrexia, led by Elesh Norn.
The Grand Cenobite was able to assemble a powerful army and dominate the territories of Sheoldred and Urabrask, which made her the dominant Praetor. The faction, led by Elesh Norn, believes that Phyrexia must adhere to the teachings of the Father of Machines. They intend to indoctrinate everyone about the truth, even if it means tearing them apart member by member and putting the parts back into a creation that is worthy of Phyrexia. They are dogmatic, hierarchical and orthodox in their methods. Norn is divided into her religious fanaticism and her ability to control and manipulate, to convince everyone to follow her and satisfy her desires. Elesh Norn thinks that Phyrexia's perfection must spread across the Multiverse and she is certainly looking for some way to spread Phyrexian infection across the Multiverse.
Our main candidate is also linked to New Phyrexia. Tezzeret is the one most likely to become the great villain of Magic. His specialty is artifacts: spells that forge, manipulate and give life to artifacts, creating huge constructions from pieces of metal. He is also proficient in mental magic and in the manipulation of magnetism, in addition to mastering Ethereum, one of the metallic magic alloy and considered the most resistant, he aims to achieve perfection between body and mind (This also reminds me of the Phyrexian ideal). After Tibalt told Tezzeret that his former master Nicol Bolas was dead, the craftsman cannot help but laugh, after all, he is free from the clutches of the only one who could prevent him from moving forward. Tezzeret was hunted by Ral Zarek at the behest of Ravnica's guilds, but of course he beat Ral up and asked to be forgotten. Tezzeret wants to disappear and start putting his plans into practice. He is one of the greatest artisans and one of the most intelligent minds in the multiverse. In addition, he has a planar bridge in his chest that allows him to cross an army from one plane to another. Of course, this army would be consumed for blind eternities, unless they were clothed with Lazoteph as the Eternals, OR IF THEY WERE CURSED PHYREXIANS! If Tezzeret's plan is to take the throne of The Father of the Machines, it is good for the Sentinels to prepare for another great war, although we cannot underestimate Elesh Norn and the other praetors. Nicol Bolas is gone, but he still has many powerful villains to be explored and harnessed in the next stories.