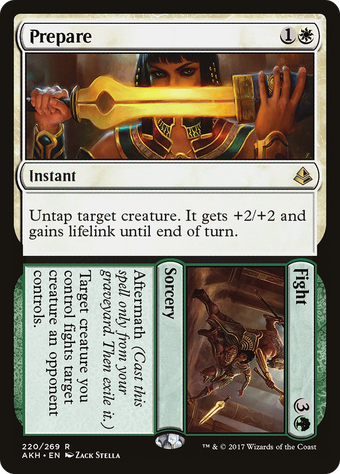 Prepare
Untap target creature. It gets +2/+2 and gains lifelink until end of turn.
04/18/17
Untapping an attacking creature doesn't remove it from combat.
04/18/17
If you cast the first half of a split card with aftermath during your turn, you'll have priority immediately after it resolves. You can cast the half with aftermath from your graveyard before any player can take any other action if it's legal for you to do so.
04/18/17
If either or both targets are illegal when Fight tries to resolve, no creature will deal or be dealt damage.
04/18/17
If another effect allows you to cast a split card with aftermath from a graveyard, you may cast either half. If you cast the half that has aftermath, you'll exile the card if it would leave the stack.
04/18/17
Each split card has two names. If an effect instructs you to choose a card name, you may choose one, but not both.
04/18/17
Any damage dealt by a creature you control with lifelink causes you to gain that much life, not just combat damage.
04/18/17
All split cards have two card faces on a single card, and you put a split card onto the stack with only the half you're casting. The characteristics of the half of the card you didn't cast are ignored while the spell is on the stack. For example, if an effect prevents you from casting green spells, you can cast Destined of Destined // Lead, but not Lead.