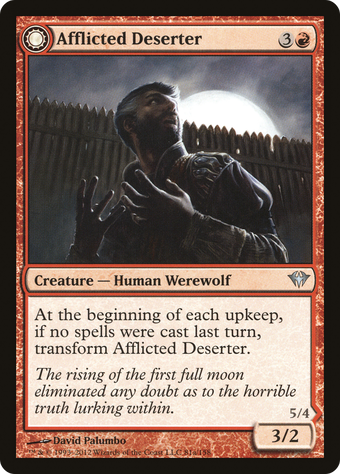 Afflicted Deserter
Creature — Human Werewolf
At the beginning of each upkeep, if no spells were cast last turn, transform Afflicted Deserter.
07/13/16
For more information on double-faced cards, see the Shadows over Innistrad mechanics article (http://magic.wizards.com/en/articles/archive/feature/shadows-over-innistrad-mechanics).
01/22/11
You choose the target artifact when Werewolf Ransacker's first triggered ability goes on the stack. You choose whether or not to destroy the artifact when that ability resolves.
01/22/11
If something becomes a copy of Werewolf Ransacker, that doesn't count as "transforming into Werewolf Ransacker." The first triggered ability of the new Werewolf Ransacker doesn't trigger.