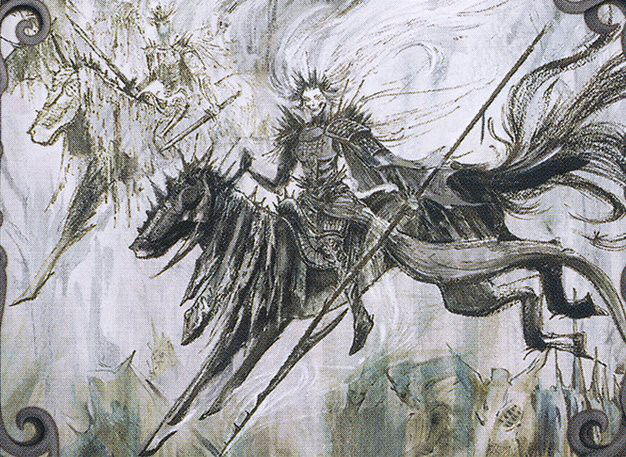 Analyzing the arts of Magic: Altered Cards / Full Art Cards
02/24/20
0 comments
In general, when it comes to alternative art, we have three types of modifications.

By Arthur

revised by Tabata Marques
Edit Article
One of the greatest differentials and "taboos" of Magic IRL (In Real Life) are the altered cards. In general, when it comes to alternative art, we have three types of modifications, which are: Alternative art created by Wizards, altered art through digital printing and Hand-altered art.
Alternative art created by Wizards
Here we have two versions of the card
Ginete Homicida // Fim Célere
, official product. Just to emphasize, there are countless other types of altered arts in all the segments and styles mentioned above. Talking briefly about the official alternative arts produced by Wizards, they are basically versions of the same card with a different design and frame. This has existed since the beginning of the game with promotional cards, such as those of judges, DCI promos and Prerelease cards. Okay, but what's the big difference? Can I use this alternate card in my deck? Basically the difference is just aesthetics and, of course, the value too. They are usually rarer and consequently more expensive, as they are aimed at the collection. If this card with alternative art respects the game standards (name of the card and mana cost, power/toughness, etc.), it can be used in the deck and is legal in the same formats as the "normal" card. In recent years Wizards has started to invest more in this segment of cards with alternative art, either in exclusive products such as Secret Lair or in the collections themselves in collector's boosters and even in normal boosters, if you are lucky enough to get a different card.
The "proxy", altered art through digital printing
Tatyova, Benthic Druid
original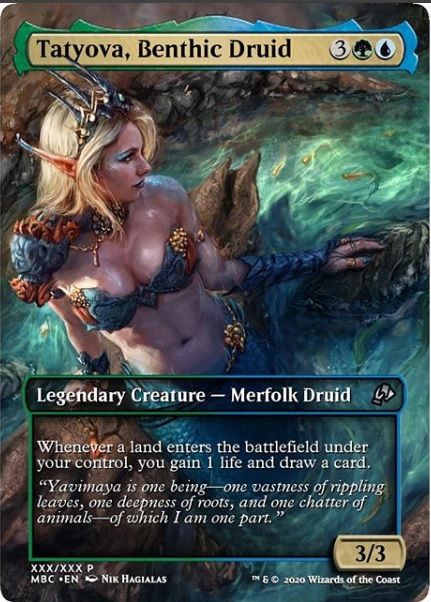 Tatyova, Benthic Druid
proxy, altered by non-original printing, The "proxy" card generates a lot of controversy and discussion, as they are usually cards printed with other and unofficial material, thus being a way to even bring fakes to the game. I'll be writing here only about the proxy as an art alternative, not questioning the authenticity of the cards within the game, okay? So let's go. As said before and shown in the example above, the proxy usually changes the card as a whole, respecting or not the rules of the game. There are those who use them to practice, there are those who make this change only for collection and there are those who use them to play, but a proxy can only be used in the game for fun between friends, nothing official, because this type of card is totally invalid in all official formats.
Hand-altered art, hand painted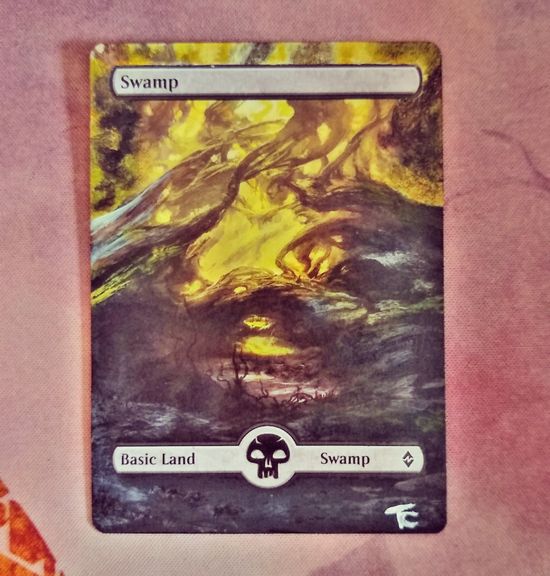 Well, here we are in the hand-altered, hand-painted card segment (the one I work with, lol). The "Alter" or "Altered" and even "Full Art" made by hand aim to bring a different or improved perspective of the original card. The big difference between this style and the proxy, for example, is that the art is always done on top of an original card. Expanding the original art of the card, bringing a new design for it or even both together (just like Wizards does with some cards and products). Okay, even though it's a painting on top of an original card, can I use it in my deck? Will it be worth more? The answers to both questions are ambiguous.
In order to use an altered card in an official and/or larger tournament it must be in the standards and rules, which are: - It must have the "top bar" clean, showing the card's name and its mana cost. - Text with the effects of the card must be visible. - Power/Toughness must be visible. Now, let's go to the caveats; If Alter is a land, it needs to have its "top bar" with the description in evidence, normally these cards have a certain raised relief due to the layers of paint applied. As almost imperceptible as they are while inside the sleeve, they still need to be double-sleeved. So, the entire deck needs to be double-sleeved, otherwise, no chance. It is not recommended to use such a card in a large tournament, leave it to use in a local tournament or in a game between friends. Hey, what did you think of the article on altered cards? Do you already have one? Would you like a different full art land? Follow me on social media and get in touch, I will be very happy to answer any questions!