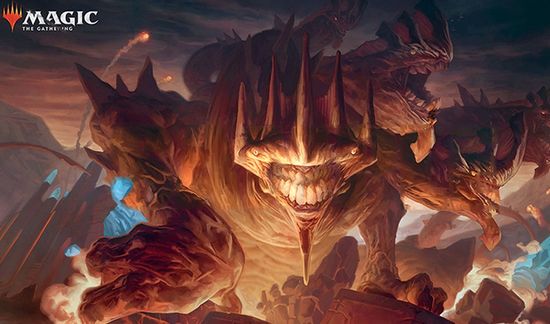 Ikoria's Mysterious Planeswalker Theory
05/01/20
0 comments
A mysterious planeswalker is controlling the Ozolith and accelerating the mutation of Ikoria's monsters. Who is he? Let's try to figure this out.

By InvoKando

revised by Tabata Marques
Edit Article
Full disclosure: I read this book in another language, so the sentences exposed here may have been translated differently from the book you own.
If you haven't read the book Ikoria: Lair of Behemoths - Sundered Bond, I'm going to warn you that this article will have a lot of SPOILERS, but if you've already read the book, you have seen the videos of ikoria's story on my channel (InvoKando) or don't care about spoilers, come with me on this theory.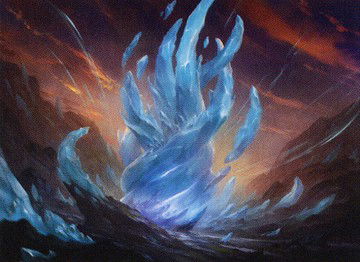 In this theory I will try to unravel one of the greatest mysteries of the book, who is the planeswalker that Vivien Reid is hunting? Who's the voice inside the Ozolith? The book tells the story of Lukka and his connection with the winged feline who killed his squad. Because of the bond he was considered a traitor to humanity and had to run away from Drannith with the help of his fiancee Jirina Kudro. During the escape from the city, Vivien Reid appears and begins to help him in the search for the feline that destroyed his life. Why is she doing this? The green planeswalker says she is curious, Ikoria's monsters are unusual, they undergo unnatural mutations influenced by some type of energy coming from the crystals of the plane, she wants to unravel this secret and find the one who may be behind these events. A planeswalker that she describes as follows. "I came here to study your world, as I told you, but also because I feared that another of my kind had arrived here first. I haven't known him for a long time, but it's in his nature to meddle. " Her final sentence is important for this theory. "I haven't known him for a long time, but it's in his nature to meddle." This sentence was of good value to us, it is not an old planeswalker that we are tired of seeing, but one that we have just known. Stay calm we will have more tips. During Ozolith's battle between bonders and nightmares, Lukka manages to reach the center of the crystal formation and there he comes into contact with this mysterious planeswalker. Just by the way he talks you can get an idea of his personality. "Please, friend, stop fighting. I'm not 'here' any more than you are, and it hurts me to see you struggle like a fish out of water. As for who I am, my name would mean little to you. Let's say I'm the interested part and let's leave it that way. " Does this arrogance remind you of someone we already met? Another phrase from the mysterious being. "I didn't make them do anything that they wouldn't do on their own. I just accelerated their natural tendencies a little bit. Let's say I gave them a little push." "Without a doubt, the most tedious revenge of all would happen. The end of my existence, and yet, all I want to do is help." He doesn't let go of his arrogance even when the enemy is close, and it is good to remember that he tells this to Lukka who is trapped and disgusted by the monsters' attacks on Drannith. Arresting your victim in some kind of spell, manipulating events to destroy civilization, speaks in ironic tones, making jokes, meddling, and we just met him. We met him in Eldraine, actually. The planeswalker who changed the Ozolith and is in Lukka's head is our crown thief, Oko. Yes, the Fey who caused problems in every Magic format and was banned from almost all of them. It is not only in the card game that he caused problems. If you read Eldraine's book, you know that Oko is the star of the story (he carried the book on his back). In the times that he appeared, it was possible to notice his arrogance and his charisma. Therefore, by the phrases of Ozolith's "voice" we have the feeling that it really is him and that at any moment a monster will transform into Fey and reveal that he is Oko. But despite staying at the end of the book talking in Lukka's head, he doesn't show up.
He doesn't appear in the cards either, the Wanderer does, but Ozolith's planeswalker does not. In fact, the cards and the book have a different "vibe", the cards give the impression that Lukka and the winged cat are good companions and in the book it is not quite like that. It is worth mentioning that the book is very good, it was a long time since we had a cool magic lore. Going back to Oko, there are a few more points that reinforce this theory, the coolest skill in the collection (no, it's not Companion) Mutation, predominant in Simic colors, the colors of Oko. 14.7% of creatures with mutations are blue and another 14.7% are green. He accelerated the mutation, those are the colors he dominates, understand? In the part that Vivien said she recently met, I thought of all the planeswalkers she met during The War of The Spark and none of them seem to be acting so arrogant. However, this meeting may have taken place "off the scene". This encounter may have taken place in Zendikar, as Oko knew the fragment of Edros trapped in Garruk and Vivien has a Pelakka wurm (creature from the Zendikar region) in her Bestial Arch. Vivien gives us more tips, in the book she invokes an Elk twice who is represented by this card: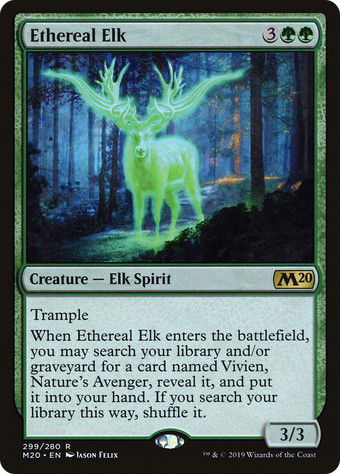 Yes, a 3/3 elk. Vivien met with Oko at some point and there was something big between them. So this is what we know. The Voice is arrogant and playful and is a man, according to Vivien. This takes Ashiok out of the picture. I really thought it could be Ashiok because of the nightmares, but he was so happy to go meet the Phyrexians that it would make no sense to stop at Ikoria and it is not his style to speak in such an ironic way. And the planeswalker is a telepath, as Lukka describes the voice in his mind, reading his thoughts. That's it for today, this is the Theory of Oko in Ikoria, I'm enjoying the direction that the lore is taking, slowly returning to the trail, this book by Ikoria showed a development by Vivien that comes out a much better character after that book. Narset has nothing more than the mention. Lukka becomes a planeswalker only at the end of the book, but his path to igniting the spark has shown that he is an impressive character and promises to be relevant in the multiverse. One detail is that it seemed that Ozolith's voice really changed his mind, influenced him, made him go from being a protective soldier of humanity to a villain. One more point for Oko, he was able to control the Garruk corrupted by the metallic veil, controlling Lukka would be easy, very easy. I'm looking forward to seeing Oko again (on a card or just in the lore), he'll be the future great villain of Magic, believe me, besides him we have Ashiok going to new phyrexia. These are some of the many interesting characters for the future of Magic. Will we have a league of villains and new Sentinels? Let's theorize more in the comments.