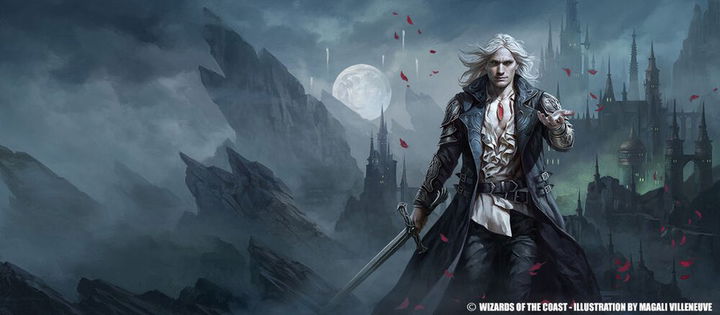 Innistrad: Crimson Vow's first spoilers and mechanics
New mechanics, return of a Tarkir keyword, Count Dracula, a reprint of a multi-format staple, and more will be available in the new set, Innistrad: Crimson Vow!
By Humberto, 10/28/21, translated by Humberto -
0 comments
Edit Article
Innistrad: Crimson Vow
's spoiler season has finally begun! And right on the first day we had several revelations and news of what's to come in the new set, including new frames, reprints and more!
Innistrad: Crimson Vow's Lore
Innistrad: Crimson Vow
continues the lore where we left off in
Innistrad: Midnight Hunt
, where Teferi and Arlinn's plan to regulate the day and night cycle went awry, and eventually took the plane to a perpetual night state. Not far from there, begins the greatest wedding of the entire vampire community,
Olivia Voldaren
resurrected
Edgar Markov
from his grave using her own blood to marry him, thus becoming the most powerful and influential vampire in all Innistrad!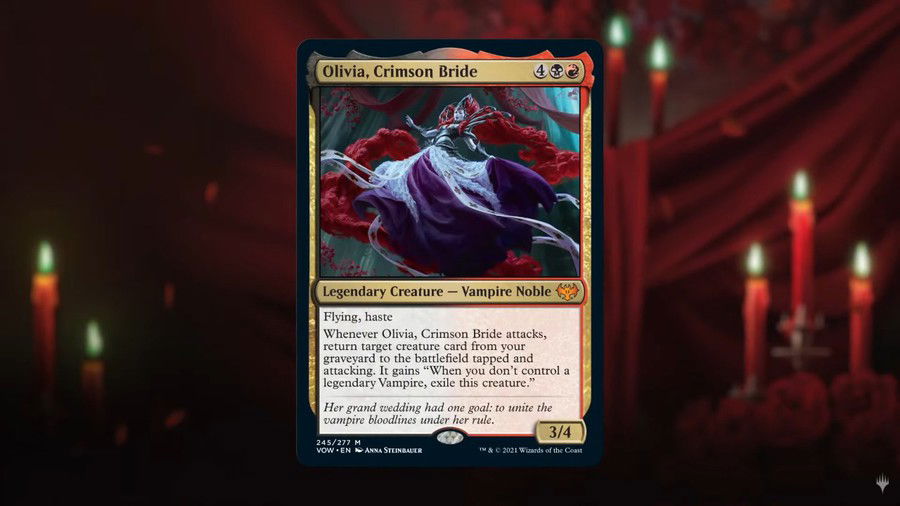 And vampires will receive a special frame treatment on this set, called
Fang Treatment
!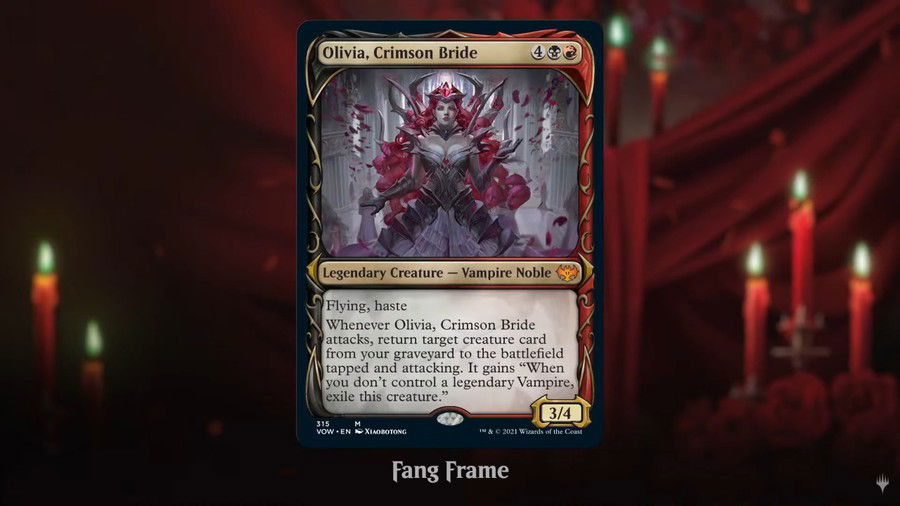 However, one who is not too pleased to see his family dishonored is
Sorin Markov
, planeswalker and grandson of Edgar Markov, who will attend the wedding to interrupt Olivia's nefarious plans.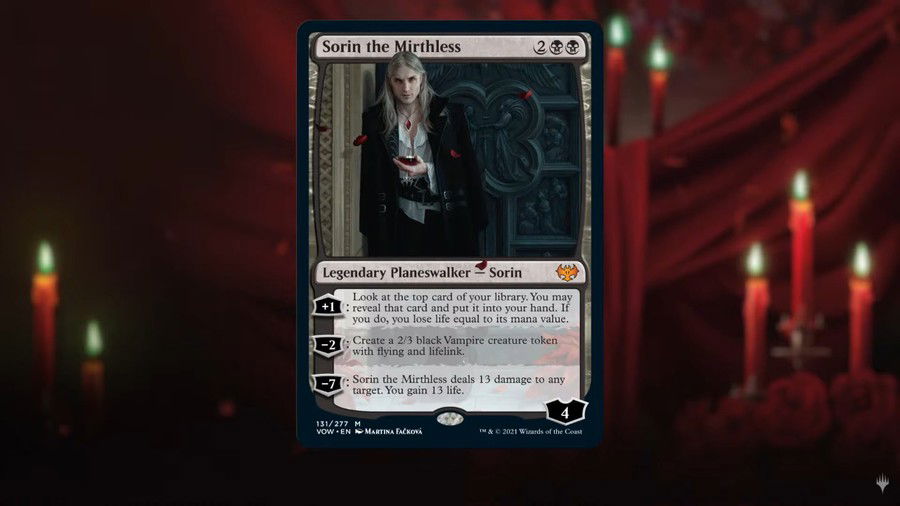 And he also received special treatment from
Ayami Kojima
, artist and illustrator known for his work on the video game series
Castlevania
!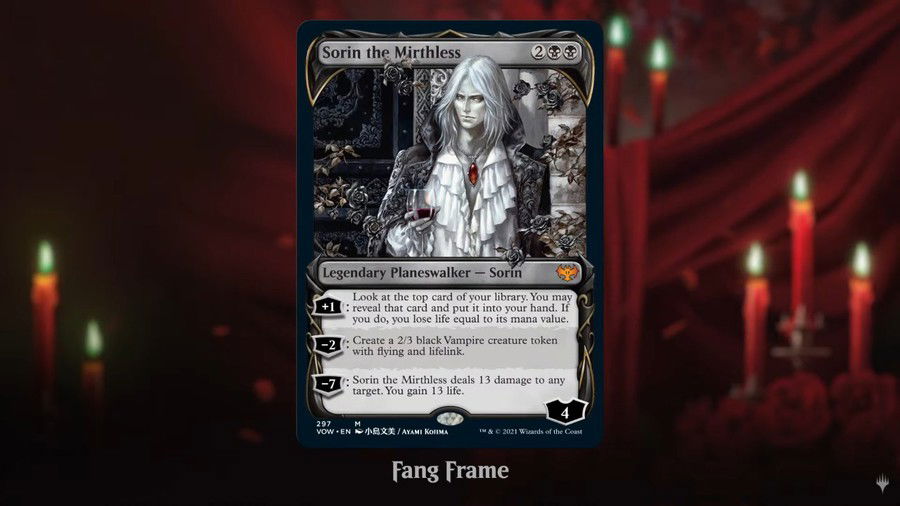 And Sorin isn't alone in his plan to stop Olivia,
Chandra
and
Kaya
will also be attending the wedding!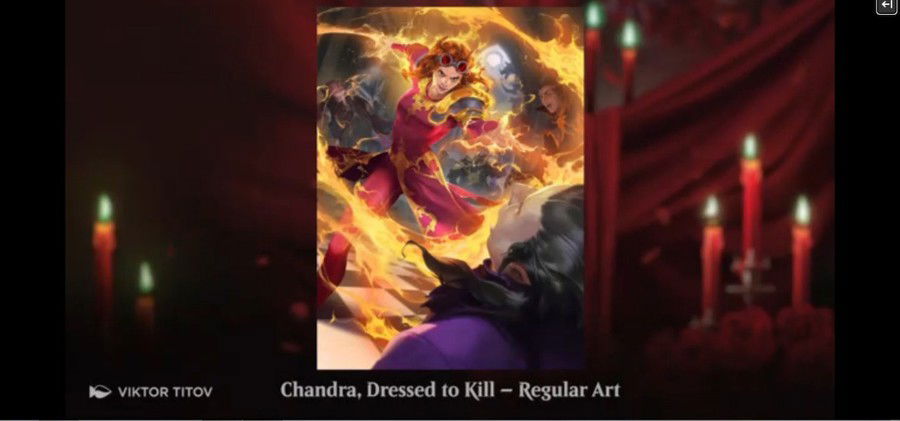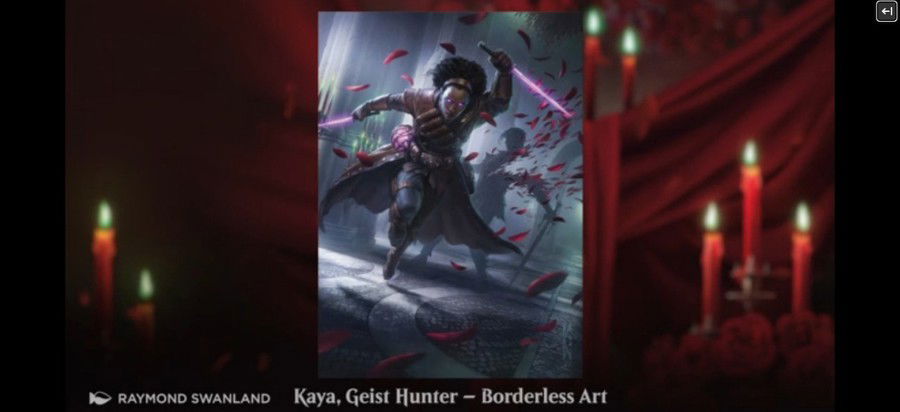 A Modern and Legacy Staple Reprint
One of Innistrad's most important characters,
Thalia
, was absent at Midnight Hunt, but will reappear in Crimson Vow, not with a new version, but with a reprint of its most powerful version, being a Modern and Legacy staple which will now enter Standard and Pioneer!
The Return of a Tarkir Keyword
Mark Rosewater mentioned that a mechanic belonging to a faction in another set would return in Innistrad: Crimson Vow. The mechanic revealed itself as
Exploit
, featured in Fate Reforged and Dragons of Tarkir!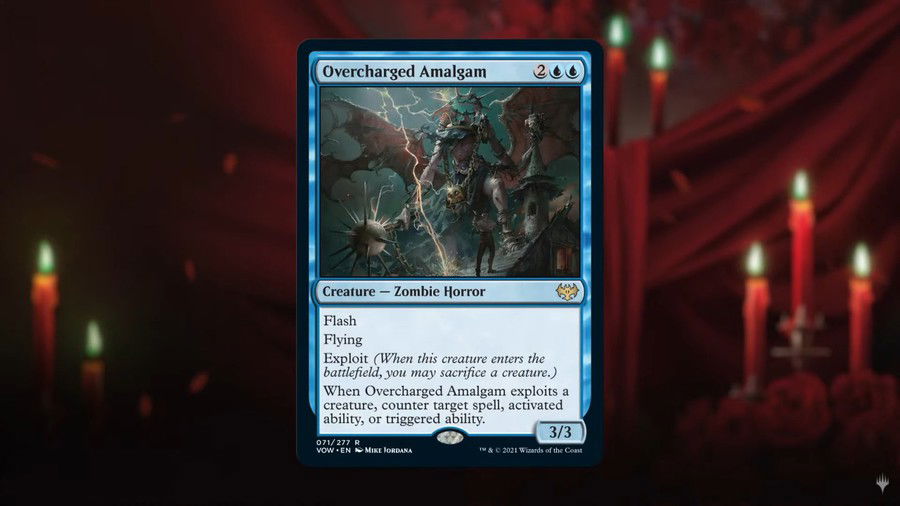 The Exploit mechanic allows you to optionally sacrifice a creature to get an additional effect from the creature you cast.
Innistrad: Crimson Vow's Mechanics
Innistrad: Crimson Vow
has some mechanics of its own, and some that will be reused from
Innistrad: Midnight Hunt
. It has been confirmed that
Daybound and Nightbound
will be present in Crimson Vow, as will the Werewolves.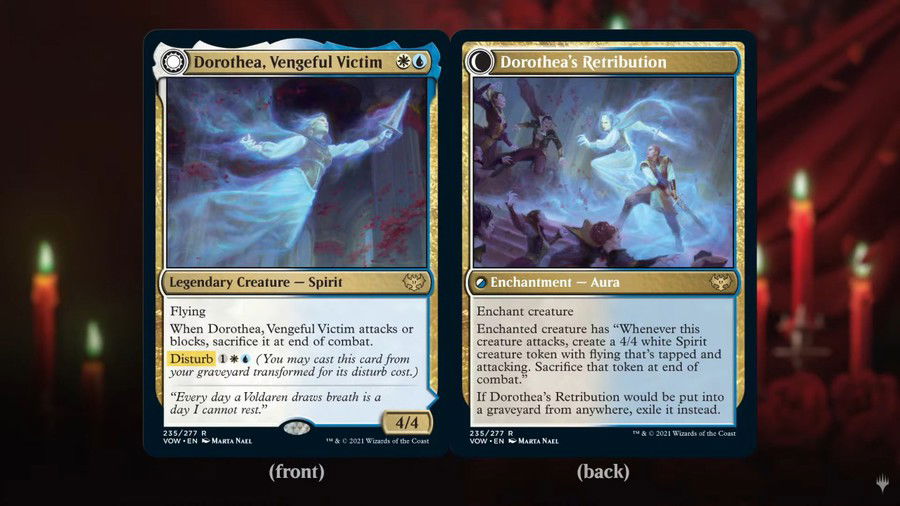 Another mechanic that returns from Midnight Hunt is
Disturb
, which lets you cast a card that has this ability from your graveyard transformed, and as we can see above, Disturb's effect will now also be available to transform creatures into other types of permanents!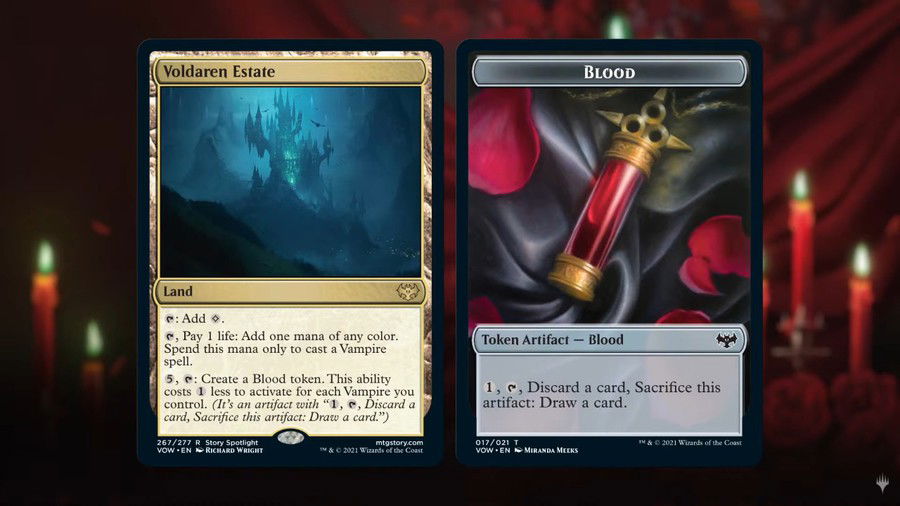 In the new mechanics, we have
Blood
, a token that can be sacrificed, paying one mana and an additional cost of discarding a card to make you draw a card, and that many additions from the new set will interact with them.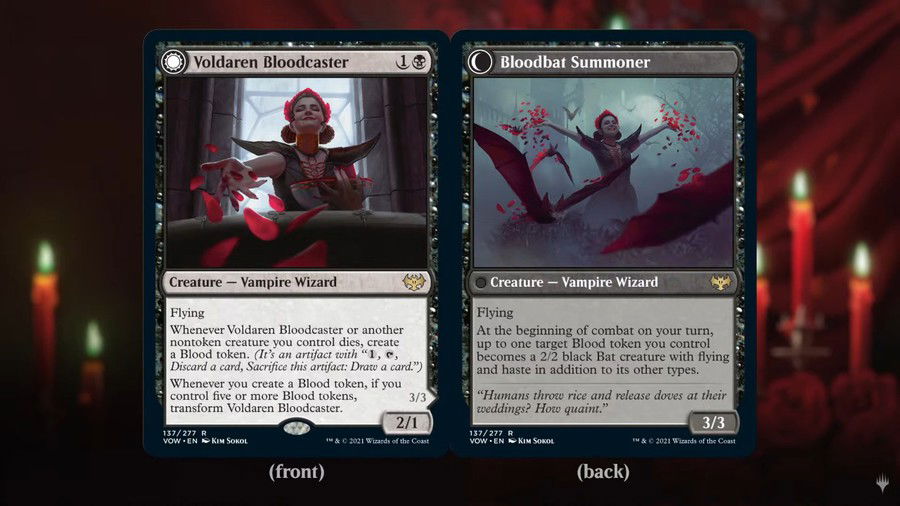 Another new mechanic is called
Training
!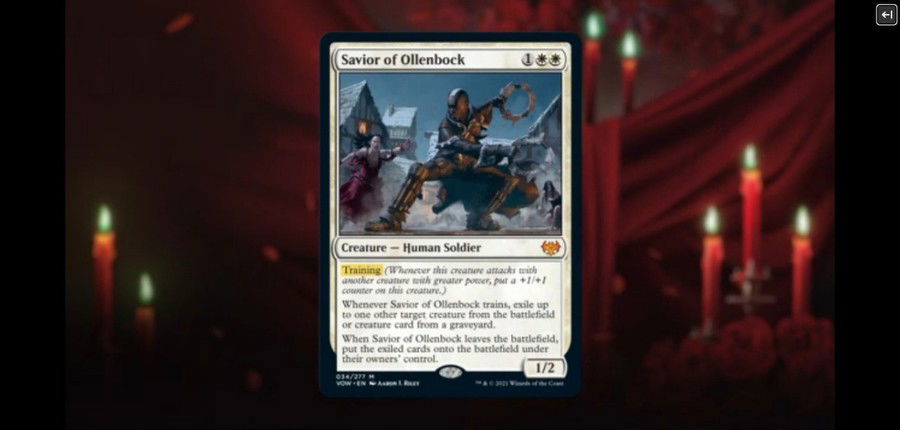 Training says that, when a creature attacks with another creature that has a power greater than its own, it gains a +1/+1 counter.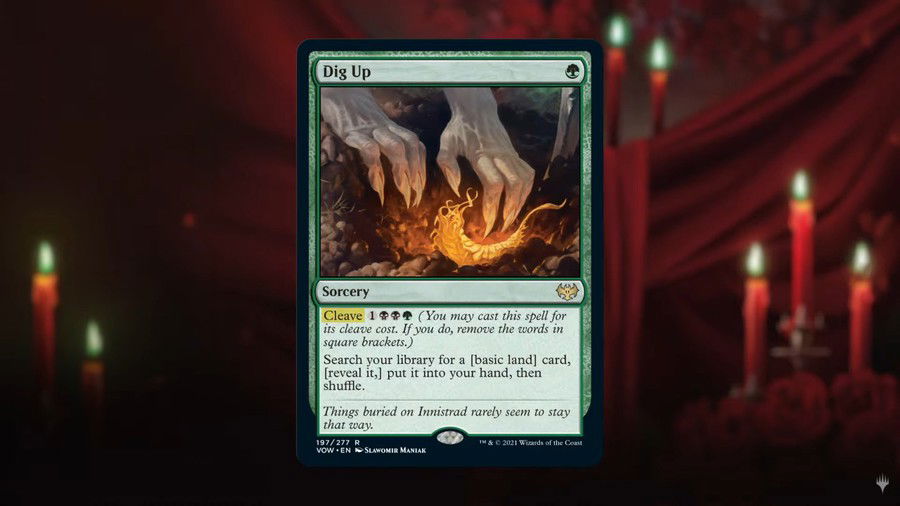 Another new mechanic in Crimson Vow is
Cleave
, which lets you pay an additional cost to change the text of the spell cast, removing all words that are in square brackets.
For example, in
Dig Up
it's written to search for a basic land from your deck, reveal it to your opponent, and put it into your hand at its normal cost, but by paying its Cleave cost, it can search for
any
card from your deck and put it into your hand, without revealing it to the opponent.
Other Innistrad: Crimson Vow News!
The dual lands of the set have been revealed and, as expected, the cycle of
Slow Lands
, which started in Midnight Hunt, will conclude in Crimson Vow!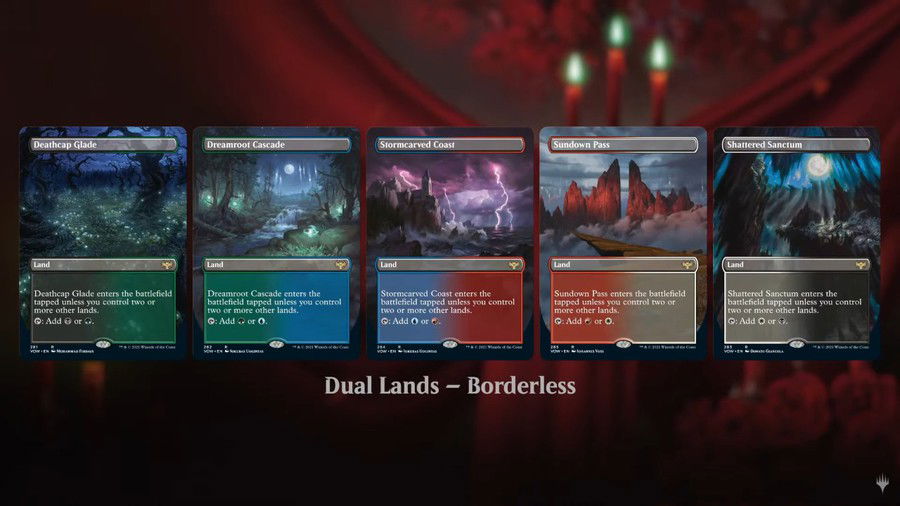 The poster creatures from the Commander Decks have also been revealed!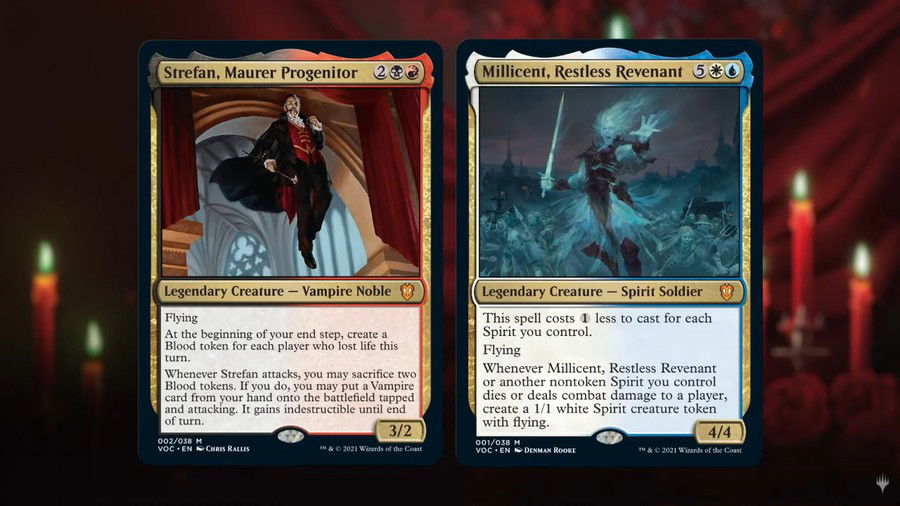 As well as Commander exclusive cards which will be available on Set Boosters.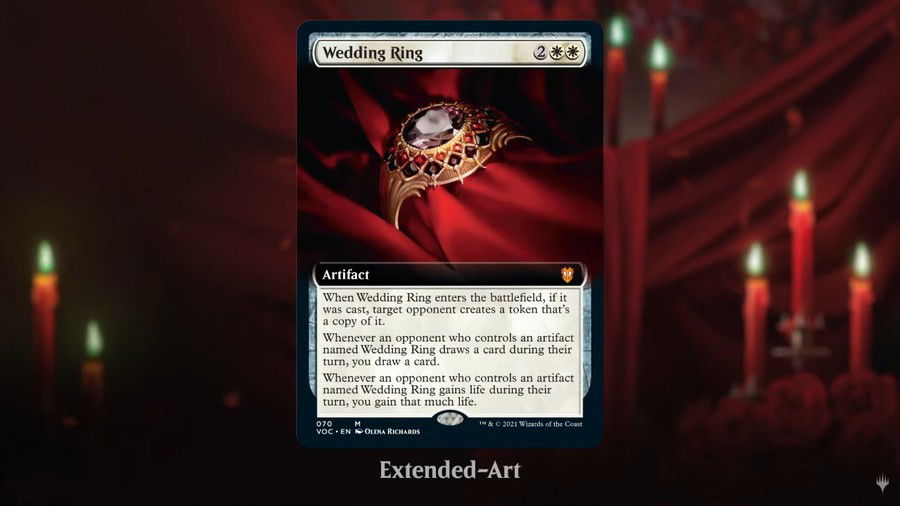 Count Dracula on Innistrad
It has also been revealed that the set will have
Box Toppers
of alternate versions of cards with illustrations of iconic characters from the vampire that gave rise to all the vampire fiction present in the world to this day:
Count Dracula
!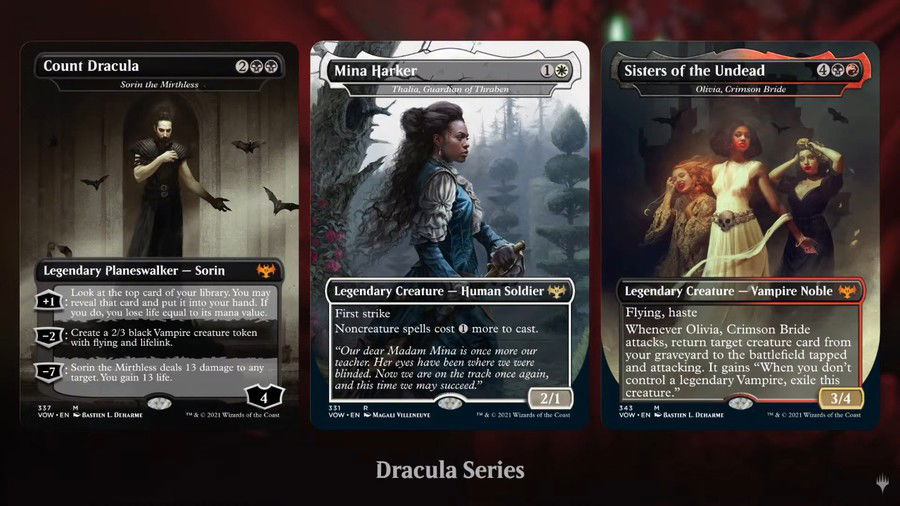 Seventeen cards will receive this special treatment, and the 18th card will be the
Buy-a-Box
itself!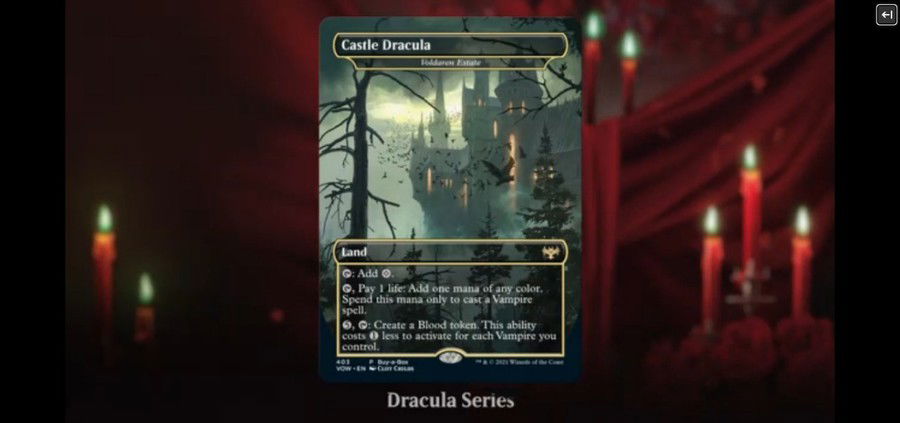 Innistrad: Double Feature
Innistrad: Double Feature
will be a set that will combine several
Midnight Hunt
and
Crimson Vow
cards into a single draftable set, and will include cards with a special treatment that will only be available there!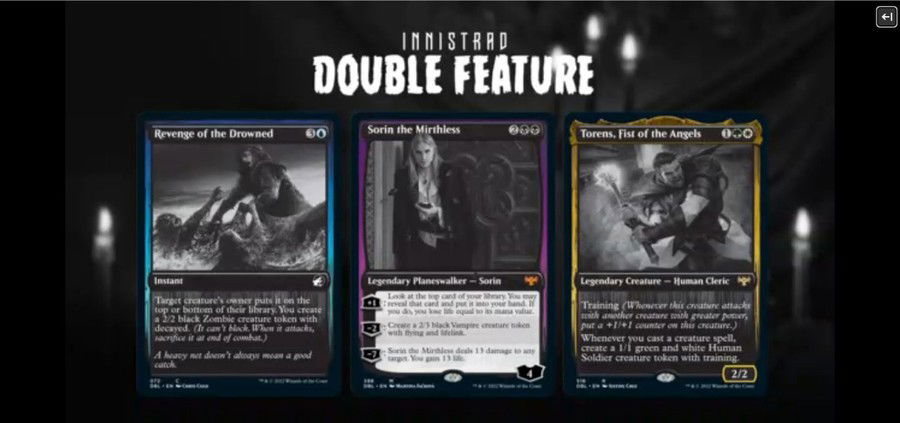 The release date is set for
January 2022
!
Conclusion
These were all information revealed from
Innistrad: Crimson Vow
today, and it comes out on
November 11
on Magic Online and Magic Arena, and
November 19
on tabletop!