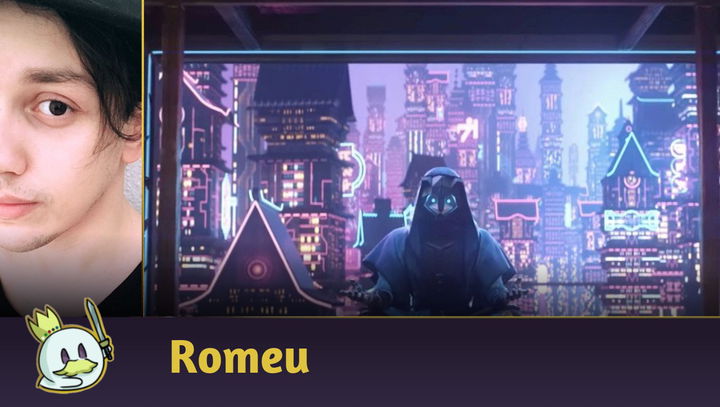 Kamigawa: Neon Dynasty's First Week
02/16/22
0 comments
In today's article, we take a look at what Kamigawa: Neon Dynasty has brought to competitive formats in the first weekend of tournaments after its release!

By Romeu

translated by Romeu

revised by Tabata Marques
Edit Article
With the first weekend of tournaments following Kamigawa: Neon Dynasty's release on digital platforms, we can get a sense of the impact the new set has had on competitive formats, what ideas are being tested and which decks are being played, and what we can look forward to at upcoming events and weeks. Today, I bring you a compilation of the main decks with inclusions from the new set in Constructed formats in this weekend's Challenges and Qualifiers!
Jeskai Hinata
Hinata, Dawn-Crowned
's ability to significantly reduce the cost of spells like
Shatterskull Smashing
, as well as
Prismari Command
,
Lorehold Command
and even being able to cast
Magma Opus
for just two mana. The highlight of this list is that it's already a very efficient Midrange, and Hinata's 4/4 body is naturally good for its mana cost, making her inclusion as a threat alongside
Goldspan Dragon
come with pretty much no drawbacks and all possible bonuses if she remains in play. In particular, I see this archetype as the near future best deck in Standard, perhaps to the point of being absolutely broken, and the fact that it has achieved so many placements in this weekend's tournaments feels like a testament to its potential. The question now is whether the Metagame will be able to adapt, or if Hinata will dominate the game enough to make the format play around her.
Mono-Red Aggro
Kumano Faces Kakkazan
with any two-drop create swift openings and difficult for the opponent to follow without equally fast answers. With this list,
Chandra, Dressed to Kill
also finds her place in Standard, and can establish a significant advantage the turn she comes into play by being able to cast another creature or spell on the same turn, while also offering some card advantage on later turns, or grants the fourth mana to play
Thundering Raiju
, which with so many ways to equip or put counters on creatures, becomes a must-answer threat. A highlight, for me, is
Ogre-Head Helm
, which doesn't have a spectacular body and doesn't offer as much pressure in early game, but offers a relevant buff on a creature in longer matchups, and can be sacrificed to replenish your resources after you empty your hand in the first few turns, making it a powerful option — as this deck has the clear goal of playing as many threats for as little cost as possible.
Azorius Control
The Wandering Emperor
was a relatively obvious addition to a Draw-Go list, as it serves as both removal and threat in the same slot and being able to play it with Flash makes a huge difference for this kind of strategy, and
March of Otherworldly Light
joins it as a powerful and efficient removal that can adapt to countless situations. Channel Lands are also essentially perfect for this strategy as well, as they offer more resources that can be used in late-game, while also guaranteeing untapped land drops. My surprise is the inclusion of
Spirited Companion
, but I suppose a two-drop that replaces itself and is a good blocker really deserves its spot.
Rakdos Control
Biting-Palm Ninja
and
Junji, the Midnight Sky
, in addition to
Reckoner Bankbuster
as an additional threat, the highlight of the list definitely goes to
Invoke Despair
.
Invoke Despair
will be a
Cruel Edict
which, for an additional cost of three mana, allows you to draw two cards and make your opponent lose 4 life, basically being a mini-
Cruel Ultimatum
for two less mana, while in other games, this spell will commonly deal with three opponent's permanents with just one card. As
Invoke Despair
makes the opponent sacrifice the creature, it also means that it deflects
Goldspan Dragon
triggers, a very relevant bonus in the current Metagame.
Ao, the Dawn Sky
and
Eiganjo, Seat of the Empire
to its maindeck, while
The Wandering Emperor
starts appearing as a sideboard option.
Invoke the Ancients
, as paying five mana to have two 4/5 bodies on the board seems like a fair trade, plus
Reckoner Bankbuster
as a threat easily crewed by its creatures, and which also offers some card advantage on longer matchups. In addition to these lists, several other archetypes appeared in this week's Leagues. However, because of the win trading schemes that have been taking place on Magic Online, especially at Standard, I chose not to mention any of these lists in this article.
Jund Anvil
Oni-Cult Anvil
was a great upgrade to the Sacrifice archetypes by allowing interactions with artifacts such as Food, Treasure, among others. But the highlight of this new list is not just the new artifact, but the inclusion of
Karn, the Great Creator
to add a toolbox to the list, including the possibility to reduce the number of
Witch's Oven
and
Bolas's Citadel
in favor of greater diversity of sac outlets. Plus, with the format being so focused on artifacts and decks like Ensoul and Esper Parhelion emerging as competitive options, Karn's static ability does a fantastic job of significantly disrupting any artifact-based strategy.
Terrarion
and
Experimental Synthesizer
, but I think the Jund version will stand out better in the coming weeks.
Esper Parhelion
Parhelion II
, to the point of making it a competitively viable option on Pioneer. The inclusion of
Greasefang, Okiba Boss
, gives room for a player to take advantage of the gigantic vehicle to practically win the game in two turns for a very low cost, as it will attack for 13 damage alongside its Angel tokens, which will remain on the battlefield even if the vehicle leaves play.
Tezzeret, Betrayer of Flesh
and
Mech Hangar
, in addition to the reprint of
Thirst for Knowledge
, Neon Dynasty opens space so that a strategy aimed at winning the game with a gigantic battleship and its army of angels becomes a reality in the format.
Azorius Ensoul
Michiko's Reign of Truth
, which functions as a pseudo-
Cranial Plating
for two turns before becoming a threat on its own when it transforms, but the list above also found room for the inclusion of
Eater of Virtue
, which absorbs the abilities of dead creatures attached to it, making it devastating alongside a
Stonecoil Serpent
, but also being useful alongside
Gingerbrute
or
Alseid of Life's Bounty
.
Orzhov Auras
Light-Paws, Emperor's Voice
joined
Sram, Senior Edificer
in Orzhov Auras, giving the archetype enough consistency to, after a few months, reach the Top 8 of a Pioneer Challenge, as well as being widely played in Leagues and Preliminaries, which could mean its return to the Metagame. It's worth mentioning that
Kaya's Ghostform
, a standard Auras card in Pioneer, is (or was, it's been reported to have been fixed) bugged in Magic Online, and the archetype would likely be even better with its inclusion.
Rakdos Aggro
Mukotai Soulripper
may prevail as a threat. Another highlight of the list is
Reinforced Ronin
as a powerful one-drop that can also crew Mukotai Soulripper, while offering a recurring flow of card advantage alongside
Lurrus of the Dream-Den
in Late-Game.
Paradoxical Outcome
Moonsnare Prototype
allows artifact decks to have a powerful mana boost which, alongside
Mox Amber
and other 0-cost artifacts, makes it possible to cast
Sai, Master Thopterist
quickly. After playing multiple 0 or 1 mana artifacts, its goal is to return as many permanents to your hand as possible with
Paradoxical Outcome
to draw a ridiculous amount of cards, then cast
Hullbreaker Horror
along with
Aetherflux Reservoir
to cast a 0-mana spell infinitely, bouncing it with Hullbreaker Horror, to gain infinite life and deal infinite damage.
Azorius Hammer
Lion Sash
and
The Reality Chip
count as creatures that can hold a
Colossus Hammer
or other equipment if needed, but can also be fetched by
Stoneforge Mystic
for specific situations. In addition to also being a great graveyard hate in the Maindeck,
Lion Sash
is a viable threat option in longer matchups when feeding from both players' graveyards, and can grow it or any creature reconfigured with it to stratospheric levels.
The Reality Chip
doesn't do much on its own, but when attached to any creature, it offers a huge card advantage in a format that includes means of clearing the top with Fetchlands, and in an archetype with such low costs, it will often be necessary to remove it from the battlefield before it makes its controller dominate the game. I'm sure
Lion Sash
will still be widely played in Hammer Time and other
Stoneforge Mystic
decks, but only time will tell how much
The Reality Chip
is necessary and viable for Modern.
Amulet Titan
Boseiju, Who Shelters All
is probably the best of the Channel Lands cycle, as there are a plethora of legal targets for it in the format and with almost zero deckbuilding concession cost for most of the lists that are interested in having copies of it, and apparently, four copies is never enough for such an efficient answer, as proven by Modern Premier's winning list.
Selesnya Taxes
Boseiju, Who Shelters All
: the player Parrit ranked seventh in the same event with a Selesnya Taxes list which includes the Boseiju playset, alongside
Stoneforge Mystic
and
Lion Sash
.
Mono Blue Faeries
Moon-Circuit Hacker
and
Ninja of the Deep Hours
with
Spellstutter Sprite
and
Faerie Seer
, as in Pauper, and using essentially the same spell base, but with the necessary adaptations to the format.
Kuldotha Boros
Ichor Wellspring
effect with
Experimental Synthesizer
gives a great reason to play
Kuldotha Rebirth
at Pauper, along with the famous
Glint Hawk
+
Kor Skyfisher
package that seemed an obsolete way of obtaining card advantage in the format today, but that can still work very well in a more aggressive game proposal. The addition of
Makeshift Munitions
to the format also significantly helps decks like this to get the most value out of their permanents, including the tokens created by Kuldotha Rebirth.
Makeshift Munitions
and the Bounce effects of
Kor Skyfisher
alongside
Voldaren Epicure
.
Rakdos Affinity
Experimental Synthesizer
was also present on Affinity lists, but the highlight of Neon Dynasty for the archetype currently is
Reckoner's Bargain
which, when cast together with
Frogmite
or
Myr Enforcer
, can guarantee a huge amount of extra life, plus two more cards in your hand, being very relevant even against decks other than Burn when the Metagame is so focused on attacking you with small creatures like this last week.
Mono Blue Faeries
Moon-Circuit Hacker
definitely went a long way towards making the monocolored version of the archetype finally return to the Metagame with added consistency. However, it is important to mention that the Izzet and Dimir versions are also experimenting with the new Ninja, especially in a scenario where the Monarch is no longer so favorable due to how many decks are trying to fill the board with small creatures, and it is possible that two copies of
Moon-Circuit Hacker
will also be adopted in these variants.
Lion Sash
in Death & Taxes.