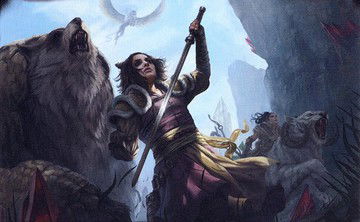 15 decklists for Historic Brawl
09/08/21
0 comments
We've put together 15 interesting, broken or just plain fun lists for you to play Historic Brawl in Magic Arena (and often stop your opponent from playing)!

translated by Romeu

revised by Tabata Marques
Edit Article
Hey guys! Today's theme is Historic Brawl, the new format in MTG Arena which is basically Arena Commander. That said, I'll always refer to the format as Arena Commander, sorry purists. A few weeks into the format's implementation, we have a reasonably defined metagame. We see that
Esika, God of the Tree
,
Golos, Tireless Pilgrim
,
Kenrith, the Returned King
,
Kinnan, Bonder Prodigy
,
Niv-Mizzet Reborn
and
Omnath, Locus of Creation
are the strongest commanders. We also have
Uro, Titan of Nature's Wrath
,
Koma, Cosmos Serpent
,
Baral, Chief of Compliance
,
Yarok, the Desecrated
among others at the top.
Winota, Joiner of Forces
is strong in Historic, but in its Commander version it is weak because of the inconsistency of revealing humans at the top of the deck. I'll show you some lists of the strongest decks and some more fun-oriented ones (not that generating 30 mana on turn 4 with Omnath isn't fun, but it's a more tryhard deck).
Yarok, the Desecrated
deck basically wants to cast creatures with effects when they enter the battlefield to trigger twice with Yarok at the board, generating more value than the opponent can keep up with. Usually, it steals two permanents with
Agent of Treachery
, generate double tokens with
Scute Swarm
, which is the terror of Arena players, or double the blink of cards with
Thassa, Deep-Dwelling
, which will usually win the game.
The World Tree
to fix the mana base and then
Field of the Dead
, card that wins the game and has few answers in the format.
End-Raze Forerunners
,
Agent of Treachery
,
Craterhoof Behemoth
, Koma and others. Its low cost makes it possible to cast it multiple times even if countered or destroyed, and its activations are always quite dangerous.
Sythis, Harvest's Hand
, which generates a lot of card advantage and gains life for the initial turns and manages to lock the game in the late game with enchantments like
Nine Lives
,
Solemnity
,
Sigil of the Empty Throne
,
Primeval Bounty
, and
Sandwurm Convergence
.
High Alert
for walls to attack and deal damage equal to their toughness.
Curiosity
this is easily possible, but even without it, we have many cheap cantrips and burns to go with Niv.
Zacama, Primal Calamity
,
Vorinclex, Voice of Hunger
and
Lotus Cobra
, among other cards, this becomes possible.
Teferi, Hero of Dominaria
deck we have almost infinite counters, many removals, some cantrips and Teferi, the most tiring win condition in the game. The deck is excellent because it can hold the game smoothly until Teferi enters the battlefield, and we can usually protect him with some counterspells by activating his +1 ability.
Ugin, Dragon Spirit
,
Ulamog, Ceaseless Hunger
,
Vorinclex, Voice of Hunger
, all the 3 extra turns of the format,
Finale of Revelation
,
Agent of Treachery
and
Sublime Epiphany
.