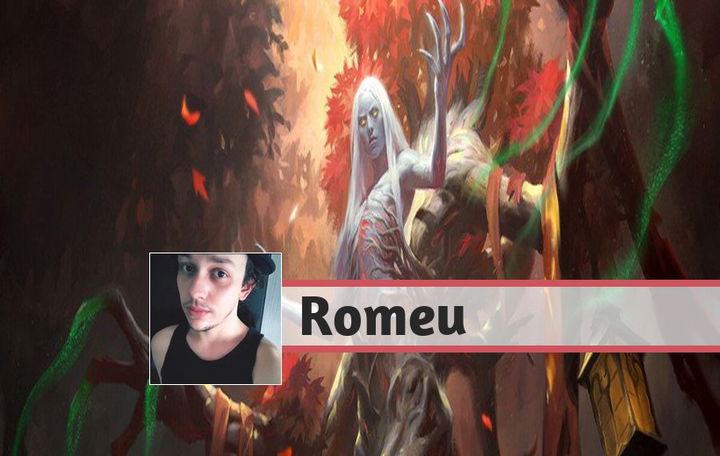 Metagame: The First week of Innistrad Midnight Hunt
This week, we see which decks came up in the first post-rotation week, plus Delver's appearance on Pioneer, Jeskai Phoenix on Modern, new Affinity on Pauper, and a look at The Legacy Pit.
By Humberto, 09/24/21, translated by Humberto -
0 comments
Edit Article
We're back with another Metagame, where we conduct our weekly analysis of events in competitive formats! And today, we'll be reviewing the results of the first week of Innistrad: Midnight Hunt, which came out last Wednesday on Magic Online and Magic Arena!
Bonecrusher Giant
, received huge additions with the new set, which includes
Reckless Stormseeker
, a card that allows the deck to raise its aggressive curve,
Briarbridge Tracker
as a high-powered threat that "replaces" itself into its controller's hand with a Clue token, and
Play With Fire
as a low-cost removal with an added benefit and
Wrenn and Seven
, which has proven to be a powerful game-winning staple.
Briarbridge Tracker
and
Primal Adversary
, and some lists also use
Wrenn and Seven
.
Magda, Brazen Outlaw
and
Jaspera Sentinel
in favor of synergies between werewolves, including cards that are naturally powerful outside their Day/Night transformations, such as
Arlinn, the Pack's Hope
,
Reckless Stormseeker
and
Kessig Naturalist
, a mighty metacall against one of the most powerful cards this on this season's start:
Esika's Chariot
.
Bard Class
to reduce the cost of legendary permanents, ranging from
Arlinn, the Pack's Hope
to
Vorinclex, Monstrous Raider
.
Wrenn and Seven
,
Emeria's Call
and, above all,
Storm the Festival
, which operates on this deck as a pumped-up and extremely explosive version of
Collected Company
.
Murasa Rootgrazer
, which operates as an efficient blocker against aggressive decks and a respectable clock against Controls, and
Yasharn, Implacable Earth
, a Historic staple that finally finds its way into Standard.
Magda, Brazen Outlaw
with
Jaspera Sentinel
to perform plays similar to Gruul's, but including powerful black cards like
Immersturm Predator
and
Tibalt, Cosmic Impostor
.
Showdown of Skalds
, and using cards like
Lolth, Spider Queen
to take advantage of the sacrifice effects, and also use another card that had strong post-rotation potential:
Orcus, Prince of Undeath
.
Smoldering Egg
and others running
Moonveil Regent
, and versions that run
Delver of Secrets
.
Delver of Secrets
with
Spectral Adversary
and
Smoldering Egg
has some potential in the format, but it will also depend on how much it will change in the coming weeks and how much
Delver of Secrets
will make a difference in these lists.
The Book of Exalted Deeds
and
Faceless Haven
combo. What can we conclude this week? Green decks are at the forefront of the format in this first period, where decks that need more refinement, such as Control decks, have not yet managed to adapt to the Metagame, something natural given that we are in the first week of the new Standard. Cards that stand out are staples that were already at the top last season and Standard 2022, such as
Esika's Chariot
,
Alrund's Epiphany
,
Jaspera Sentinel
,
Magda, Brazen Outlaw
and
Goldspan Dragon
, but new cards are showing that they can keep up with the power level of previous sets or even be above them, such as
Briarbridge Tracker
and, especially,
Wrenn and Seven
.
Wrenn and Seven
is Card Advantage, Ramp, Threat, and Finisher on a single card, and the fact that its token grows exponentially over the course of a game makes the card a perfect five-drop, competing and even beating
Goldspan Dragon
in this category, as your token is more threatening on an empty board and blocks the Dragon easily. I'll be watching Standard's moves in the coming weeks and reporting in this series, but particularly this next season looks promising!
Consider
in decks like Izzet Phoenix, it was Azorius Control that stood out this week by taking advantage of the card to open up faster interactions with
Dig Through Time
, and the archetype also has received other powerful additions with Innistrad Midnight Hunt, such as
Fateful Absence
, allowing it to remove creatures and planeswalkers for a low cost and at Instant-Speed, and
Sunset Revelry
to hold back aggressive decks.
Lotus Cobra
and
Omnath, Locus of Creation
to play
Genesis Ultimatum
quickly, has reappeared this week using the new Standard staple,
Wrenn and Seven
, which serves as a Ramp, a means of enabling multiple Landfall triggers and threat on a single card. While the deck didn't deliver impressive results this weekend, I wouldn't overlook the potential that decks like this have to break formats when built the right way and with few new additions.
Dreadhorde Arcanist
and
Young Pyromancer
. Unfortunately, the archetype didn't make an impressive result, and its best place was in the 17th position, but we may see new variants emerging in the coming weeks, and possibly making better results.
Faithless Looting
has been banned from Modern for two years now, and although this essentially killed the Izzet Phoenix archetype, the deck again attempts to rise from the ashes (pun intended) in this new Jeskai version, running the new looting:
Faithful Mending
. Adding white allows the deck to also play
Prismatic Ending
, a commonly used removal in the current format, which can handle any problematic permanents, from
Ragavan, Nimble Pilferer
to
Colossus Hmmer
, passing through Rhino tokens from
Crashing Footfalls
, and white also enables it to have
Path to Exile
to handle
Murktide Regent
and
Wear // Tear
to handle troublesome enchantments like
Rest in Peace
. The creature base features
Demilich
, a card that players repeatedly try to match with
Arclight Phoenix
as both creatures interact well with multiple spells being cast in a single turn and looting effects as both can be used from the graveyard. Given the increase in cards that throw things into the graveyard, with sixteen cards that use this effect among the aforementioned
Faithful Mending
, plus
Faithless Salvaging
,
Thought Scour
, and
Consider
, the deck seems to have the relevantly necessary means to attempt a return to Modern, and it's something its most loyal fans will relentlessly try to accomplish with each new addition it receives.
in this article, where I explain how Faeries will almost always be Pauper's best deck
. Instead, let's give due attention to decks that stood out this weekend.
Ardent Elementalist
was present in the Top 8 of the Pauper Showcase, on Jeskai Ephemerate, and it was to be expected this card would be present as it is a more accessible
Archaeomancer
version in mana, with a body that makes a more relevant clock on an empty board and in a color that doesn't make it an easy target for the format's main sideboard,
Pyroblast
.
Deadly Dispute
,
Atog
, and
Makeshift Munitions
to create a punishing clock for the opponent with
Disciple of the Vault
, similar to what we usually see in Sacrifice decks in other formats, without giving up the aggressiveness that cards like
Myr Enforcer
have, and the combo -kill,
Atog
+
Fling
.
Deadly Dispute
gave the deck new synergies with cards like
Ichor Wellspring
, which also allows the archetype to include
Makeshift Munitions
for plays that manages to make 2-for-1 or even 3-for-1 exchanges.
Ragavan, Nimble Pilferer
made up about 23% of the event's total Metagame. Of the top 16 decks, eight decks runs
Ragavan, Nimble Pilferer
+
Dragon's Rage Channeler
+
Murktide Regent
. Although Izzet Delver is the most present deck in the Top 16, Blue-Based Tempo seem to be gradually abandoning it in favor of the cards mentioned above due to the added value they offer while extra slots allow them to use some more useful options and/or that allow the deck to play better attrition games against Bant Control and other archetypes that try to prolong the game (where Delver decks tend to run out of steam and be at a disadvantage).
Dragon's Rage Channeler
and
Ragavan, Nimble Pilferer
and protect them very well if necessary, but also bets on slower, more impactful cards like
Teferi, Time Raveler
and
Jace, the Mind Sculptor
, while still using staples from Delver decks like
Daze
and
Expressive Iteration
.
Standstill
itself in favor of a more stable manabase that can better use its colors, making it less vulnerable to
Wasteland
, while being able to use their own copies of the card alongside the other colorless land,
Urza's Saga
.
Delver of Secrets
, even when their other choices seem much more favorable to using
Dragon's Rage Channeler
, as seen with this Jeskai Delver, which mixes Izzet Delver's core with the
Stoneforge Mystic
package.
Esper Sentinel
and
Ethersworn Canonist
, plus copies of
Phyrexian Revoker
to deal with certain permanents,
Walking Ballista
, which serves as a machine gun against low toughness creatures, especially when used along Modular creatures, and
Stonecoil Serpent
as an evasive threat that can grow quickly.