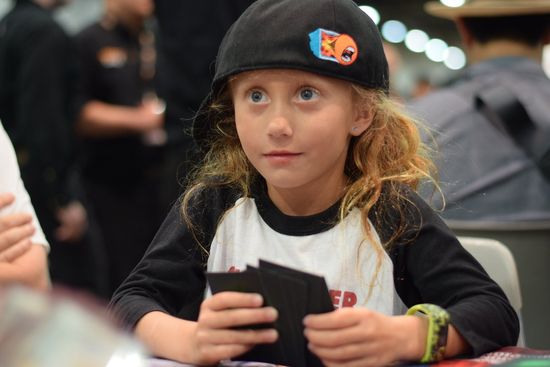 Magic: the Gathering
News
Com 9 anos, Dana Fischer se torna a pessoa mais jovem a ganhar dinheiro em Grand Prix
Dana Fischer, com seus 9 anos, estabeleceu um novo recorde mundial
By Leon, 02/19/20, with help from our readers
No MagicFest Austin do mês passado, Dana Fischer, com seus 9 anos, estabeleceu um novo recorde mundial. Dana se tornou a pessoa mais jovem a ganhar dinheiro em um Grand Prix. Ela terminou com um recorde de 10-4-1 em 46º lugar, mas chegou a alcançar o 13º lugar com 8-1 no final do primeiro dia do Grand Prix.
At #MTGAustin I SET A WORLD RECORD by achieving my goal of becoming the youngest player to win cash at a GP! I ended 10-4-1 in 46th place, peaked at 13th / 8-1 at end of 1st day, won the Play It Forward playmat for the top female player, & now have more GP Day 2s than my dad. :)

— Dana Fischer the Magic Planeswalker (@DanaFischerMTG) January 20, 2020
No #MTGAustin, FIZ UM RECORDE MUNDIAL, atingindo meu objetivo de me tornar o jogador mais jovem a ganhar dinheiro em um GP! Eu terminei 10-4-1 em 46º lugar, atingi o 13º / 8-1 no final do 1º dia, ganhei um playmat da Play it Forward por ter sido a melhor jogadora e agora tenho mais 2º dia em GPs do que meu pai. :)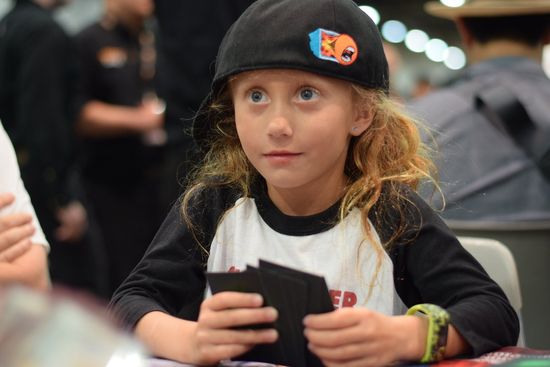 Faz menos de 1 ano que publicamos
a façanha de Dana em ser a pessoa mais jovem a ir a segundo dia em GP, mas parece que ela não quer parar por aí. Escritora da Channel FireBall, um dos maiores times de Magic, Dana faz
reports de seus torneios
:
Acho que uma das razões pelas quais me saí tão bem foi porque dormi bem e tomei um bom café da manhã. Dormir bem normalmente é de 10 a 11 horas, e antes do evento eu dormi 12 horas, o que eu acho que é uma das maiores coisas que me ajudaram a fazer tão bem. Tomamos um bom café da manhã no hotel, onde eu comi duas panquecas com calda.
Também fiquei muito feliz em ganhar dinheiro, porque é algo que posso compartilhar com minha irmã Sadie, já que ela não joga muito Magic e geralmente não vem nessas viagens. Se Sadie vê algo que acha que nós dois desejaremos, posso comprá-lo com o dinheiro que ganhei, e isso me faz sentir que não estou apenas jogando Magic para mim mesma, mas que também estou ajudando minha família inteira jogando um jogo que eu amo.
Outra coisa que significou muito para mim foi que mostrou que meu primeiro dia 2 não foi apenas uma ocorrência única, o que me faz sentir que posso fazer muito mais dias 2 e não é apenas sorte, e sim que estou melhorando minhas habilidades como jogadora.
Além de tudo o que consegui, ganhei o prêmio playmat da Play it Forward por ser a mulher ou jogadora não-binária mais bem posicionada, o que eu queria por um longo tempo. Me ofereceram a escolha entre três designs de playmat diferentes e estou realmente empolgada com o que escolhi e mal posso esperar para obtê-lo!
Ganhar dinheiro também mostra o que crianças pequenas (especialmente meninas) podem realizar. Espero que meu registro também inspire outras crianças a jogarem, porque eu amo ver outras crianças gostando de jogar.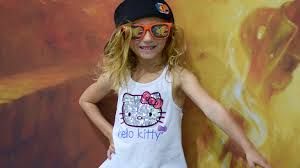 Parabéns a Dana Fischer por se tornar a pessoa mais jovem a ganhar dinheiro em um evento de Grand Prix!