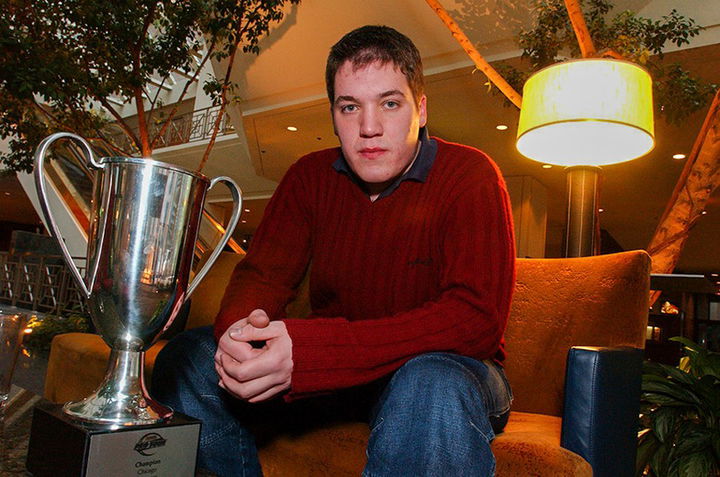 Magic: the Gathering
Casual
Eleven Questions with Kai Budde, MTG's biggest winner
We interviewed Kai Budde, one of the most winning players in major MTG tournaments! Check out!
By PROSA, 06/14/21, translated by Super Tabs, with help from our readers
Today we'll have an illustrious guest, who was in the Rivals League (until the announcement of its end). Anyone who accompanies him on social networks knows that he's always making comments and posts about the game, opinions about spoilers and game situations, in short, he is an important figure and well-received by our community. He is the biggest award winner in Magic history, won 7 Pro Tours, 5 individual and 2 team. He won two World Championships and also 7 Grand Prixs. Four times Player of the Year. He reached the Hall of Fame in 2007.
Undoubtedly, the best player in Germany, and one of the Top 3 in all history. Even in the face of game difficulties, he presents a lot of calm and a different line of thought from players in general, making it very difficult to read his game. In 2012 he joined SCG Black, sponsored by Star City Games, a team that would later change its name to The Pantheon. High-profiled players accompanied Budde, such as Jon Finkel, Reid Duke, Sam Black, Gabriel Nassif, among other professional names. Now that we know a little about this player, let's see the interview with him, Kai Budde, aka Juggernaut!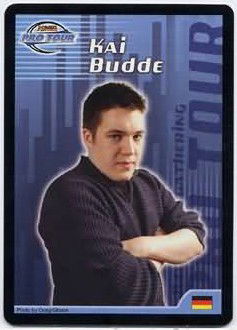 1. Starting with the basics, when and how did you get to know Magic? Did you have a group of friends?
Kai Budde
: Around 1995, while in high school I was playing the german version of Dungeons & Dragons with a bunch of friends. One taught us how to play MtG. None of those guys was interested in playing tournaments though, but I met people at the local shop that had weekly tournaments pretty quickly. 2. At that time, was Magic already very popular in Germany and Europe? Did you have a very active community?
Kai Budde
: That's before the internet, it's pretty tough to say, I don't know WotC sales numbers. Germany was always one of the bigger markets for MtG and German nationals was also always one of the biggest ones, along with Italy and France. I grew up in Cologne, a city with a population of around 1 million people. There was a pretty active scene with weekly tournaments and stuff. 3. Was it too complicated to cross the Atlantic to play the Pro Tour or go to Japan where you were the champion? What difficulties did you face at the time?
Kai Budde
: It wasn't a big problem to travel. A german passport is one of the best ones, when it comes to travelling. I didn't need a VISA or anything like that to get into the USA or Japan. I wasn't 18 when I travelled to my first Pro Tour in the US, so I needed a bunch of things signed by my parents.
4. I watched 10 times a match you played against Alan Comer, that was incredible. What was it like to play a game that was a bad match for you? Tsabo's Assassin was potentially a big problem. Did you feel any pressure?
Kai Budde
: That was PT Barcelona. Back then decklists weren't public and I wasn't allowed to watch his matches, so I didn't really know what he had. My deck was overall much stronger than his. Tsabo's Assassin was a problem as I didn't have much removal for it, but he was essentially splashing for it, so it wasn't that easy to cast, I had some bounce spells and a creature that can give other creatures protection from black. It was a PT final, so I was clearly nervous. But it wasn't my first and I knew my deck was very good - also if you're in such a good run as I was back then, you're just pretty confident. :)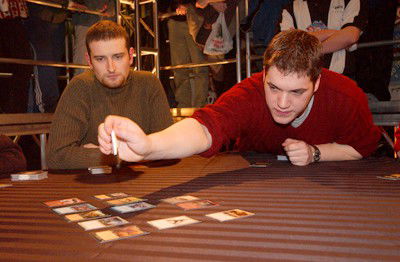 5. Magic was different that time. How do you see the evolution and the direction that Magic has taken? Did you imagine, when you entered the Hall of Fame, that Magic would be different from when you used to play?
Kai Budde
: The biggest change in tournament Magic is the crazy fast flow of information now compared to back then. Magic Online didn't exist for the first 2-3 years I played professionally. The internet only started to exist. That was the most significant change really. Back then you would turn up to a tournament and hope that no one else found a broken deck. Today information gets exchanged so fast and there are so many games being played online, that someone shows up with a deck you had not seen before is very, very rare now.
I don't think MtG itself has changed that much since I got into the HoF (2007, I think). The surroundings have. The biggest change was the introduction of the MPL and now the abolishment of it. I hope WotC will come up with a good tournament system going forward, it would be sad to not have anything like the Pro Tour. 6. How is Magic in Germany: how is the general community? are they very competitive, more content oriented, more casual? Which format is preferred? And your favorite format?
Kai Budde
: I haven't lived in Germany for quite a few years and even before that, I wasn't really active in the local community, mostly playing online or drafting with friends. Overall the community in Germany is huge, I assume there's more casual-ish commander players than competitive players, I think that's just normal for a huge player base. My favorite format is any form of team Limited, Sealed, Booster Draft, Rochester Draft. That's the most fun for me.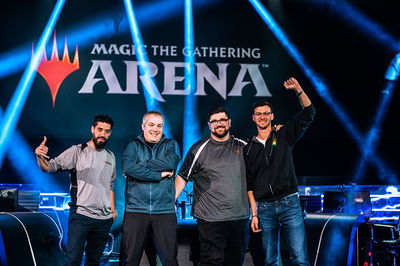 7. Some players, like the Brazilian Lucas Berthoud, announced retirement with the end of MPL and the other league that gave access to it. Do you think that keeps away the most experienced, the most professional players?
Kai Budde
: We don't know what organized play will look post-MPL. I didn't like the league structure, it was good for everyone inside and bad for everyone else. I hope that WotC goes back to a system similar before the MPL. Focus organized play on tabletop as online/arena really has not worked very well. If WotC wants to move the high end of competitive play online, they need to invest a lot more resources into arena. I liked the change to having regional players tour and then a player tour final. It would likely be a good step forward to also have one in South America as travel for south americans is always a bit of a nightmare. So one stop in North America, one in South America, one in Asia and one in Europe - and then anyone with a certain record qualifies to the next step. I liked that change that was made when the MPL thing started and I hope that they keep that. 8. Refers to the previous question, does this prevent a return from those who have already departed? You, for example, are retired from Magic, but do you intend to return?
Kai Budde
: I'm currently in the Rivals league, so I'm a semi-professional MTG player, I suppose. But once that's done, I'll go back to play 1-2 tournaments per year at most. Playing in all these League events while having a full-time job pretty much meant I had to use all my vacation days on MtG in the last year. That was fun for one season, but I wouldn't want to do that every year.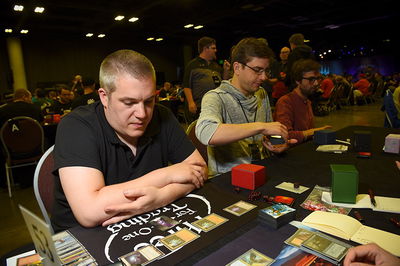 9. Leaving Magic a little, what directions have your life taken? Is there a hobby you would like to mention?
Kai Budde
: I'm working for a sportsbetting company for over 10 years now, outside of that I'm still a gamer, no real hobby outside of that. 10. Would you teach your children to play MTG? Do you believe that Magic can help develop your child's thinking?
Kai Budde
: Magic is a great game, possibly the best game out there - my only problem is that it's just crazy expensive. I don't have children, if I did, I'm sure I would teach them how to play, so they know what I've been doing for most of my life - but it would be up to them if they want to keep playing. It's a great game, but some people love it, some don't. 11. Magic today has easy access to lists, easy access to tournaments, a player has an easier time entering the professional circuit. In contrast, many other players have the same opportunity. In this scenario, do you think it is possible for a player to reach the top of trophies like you? After all, you have 7 Pro Tour, 5 individual and 2 for teams.
Kai Budde
: We don't know what organized play looks like once the league system is gone. In general, the events are bigger, the level of players is more even. Let's say PV is the best player going into the StrixHaven Championship next week - I don't think his edge over the worst player is nearly as big as the edge over the worst player in an event 20 years ago was. Which means it's just incredibly unlikely for someone to win that many big tournaments. But maybe it happens, PV is on a good way!
That was Kai Budde; if not the best Magic player, then the most winning one of them!
To find Kai Budde, go to: -
Twitter
Take a look at the sports betting site that Budde works on: -
Pinnacle.com
Thank you very much for reading and see you next time!