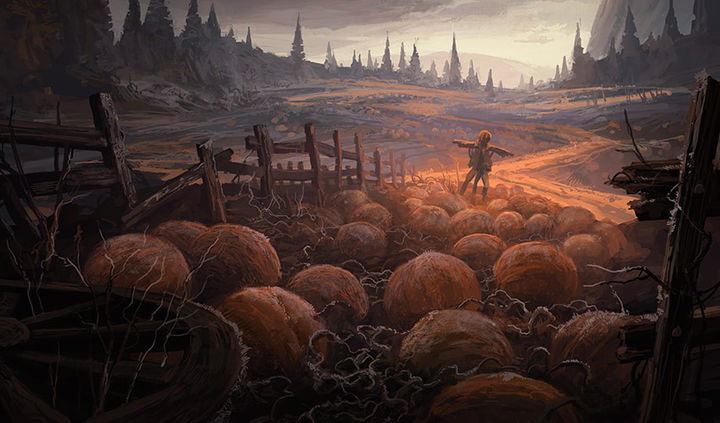 cEDH Set Review: Innistrad Midnight Hunt
09/17/21
0 comments
With the end of the spoiler season and the entire set revealed, we made a review of Innistrad: Midnight Hunt for cEDH

translated by Romeu

revised by Tabata Marques
Edit Article
Introduction
As the spoiler season has finally come to an end and this new set is closer to being available in stores, nothing better for cEDH players than knowing which cards might see play It's worth mentioning that, as this set is focused on Standard, normally the cards released do not have balanced power level for the cEDH. I know this has happened a lot in past sets to the detriment of the new policy adopted by Wizards of the Coast, but it seems that WoTC is improving its balance and the cards that come out in current sets are good, but they don't seem to break formats anymore.
(except for Modern Horizons II and Pauper)
.
Honorable Mentions
Siphon Insight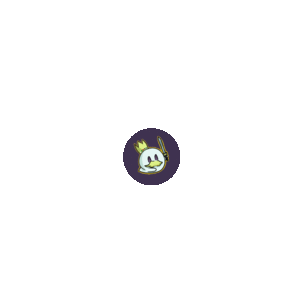 This one is not on the list because it is strong, but because it works as an answer to tutors for the top, since when you face other decks with this feature, you can answer them by exiling the card that was searched and prevent your opponent from drawing it, and it is possible to do this more than once as it has flashback. Even better: in addition to exiling, you can cast the exiled card, that is, you take a card from your opponent and still keep it for you.
Dennick, Pious Apprentice // Dennick, Pious Apparition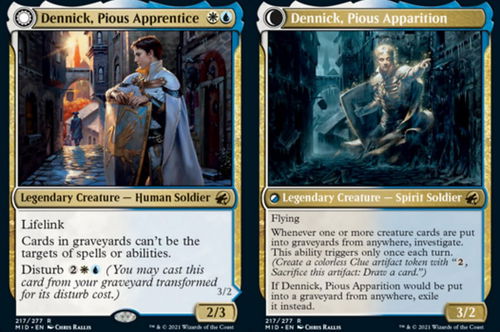 Another UW commander who works as a stax, preventing cards in graveyards from being targets of spells and abilities, and at a low cost it can generate life for you, as it has lifelink. He can also generate draws, with his other side, even though it's pretty slow.
Triskaidekaphile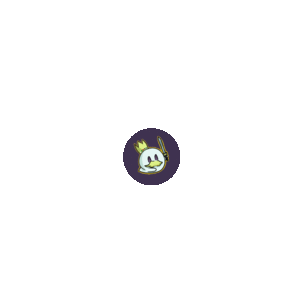 A mana cost 2 card with an alternate wincondition, that sounds familiar... So, in this set we have:
Thassa's Oracle
Triskaidekaphile
, a card that under the right conditions can lead you to victory, but that doesn't look promising to me, as this can only occur at your upkeep, and you need to have exactly thirteen cards in your hand. On top of that, you can pay 3U and draw a card, which can come in handy, but it's still a little slow.
Prowling Geistcatcher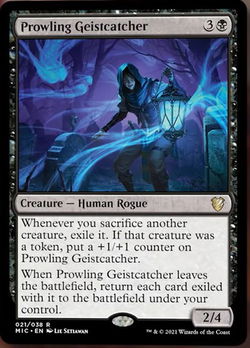 This creature is a strong constant reanimate engine. Along with
Karmic Guide
and
Altar of Dementia
, for example, they can infinitely reanimate creatures by milling opponents' library or your own. Their mana cost is indifferent with reanimate lines and tutors for the graveyard, which is quite present in black. I believe this card should at least be tested, even though I'm not sure of its effectiveness at the moment.
Drown in Dreams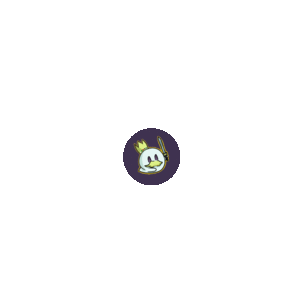 This card is simply stronger than any other card that has a draw effect, and if you have a commander you can do both of its effects, paying only for one of them. This isn't exactly a super-powerful card that will change the metagame, but I see some more control lists using it to fill the hand and mill cards.
Top 5 Cards
5 - Fateful Absence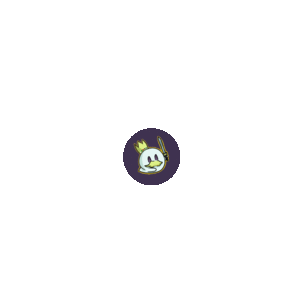 This card is another good removal for white decks, and it covers Planeswalkers, even if they are not widely used in cEDH. Giving a clue to the controller is negligible compared to the usefulness and importance of one more removal for the deck. The fact that it doesn't cost one hinders its optimization, but there are other removals that work in the format and that cost more than one mana. Decks like
Oswald Fiddlebender
,
Heliod, Sun-Crowned
, and
Teshar, Ancestor's Apostle
might make use of this card.
4 - Fading Hope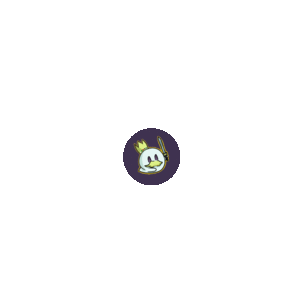 Another card with more than one function. This card wouldn't replace
Chain of Vapor
, but it will definitely enter the
Codie, Vociferous Codex
lists for solving three of the deck's problems at once, as it works to find the
Profane Tutor
and with it find a
Bring to Light
using the five colored mana that Codie provides to, with Bring, tutor an
Ad Nauseam
and cast it without paying the cost.
In this line, the
Fading Hope
ends up working in different ways for the list, occupying only one slot in the deck. This card works as a bounce for problematic creatures like
Oposition Agent
(and Hullbreacher)
, and it can even return Codie to your hand, and as a bonus, it gives you a Scry 1 if the creature which it targets has cmc 3 or less. This card could enter the list precisely because it is useful in several ways.
3 - Old Stickfingers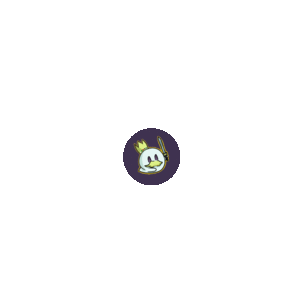 He is a new Commander that people are trying to build a deck around. It's a very consistent way of having a Commander with
Entomb
, as long as the creatures are the only ones in your deck, then Old Stickfingers can throw them to the graveyard to be reanimated later on. It's an obvious restriction, but it allows you to abuse combos with a good consistency, since besides the commander, you only need mana and reanimate to win games.
2 - Moonsilver Key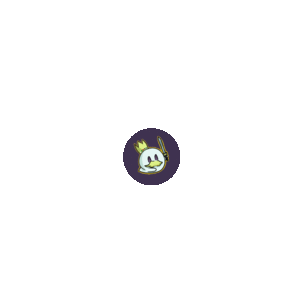 This card should enter lists that don't have access to highly optimized tutors, but rely on artifacts with mana ability. Moonsilver Key can be important for finding combo pieces for a low mana cost,
Oswald Fiddlebender
, who can find positive mana rocks when needed,
Teshar, Ancestor's Apostle
, who relies on artifacts to win the game and a tutor who synergizes with the deck's strategy, or
Kinnan, Bonder Prodigy
. It also manages to find the
Basalt Monolith
which generates infinite mana with the commander. A colorless 3-mana tutor is strong, as any deck can include it without making too many restrictions.
1 - Malevolent Hermit // Benevolent Geist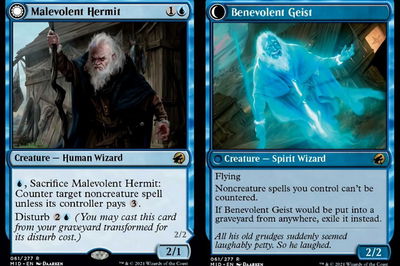 Blue is the warmest color at cEDH, one of (if not the strongest) of the five colors together with black and red. Much to the delight of blue Commander players,
Malevolent Hermit // Benevolent Geist
can bring even more protection to your decks, as it initially functions as a mix of
Spell Pierce
and
Miscast
, which counters non-creatures unless its controller pays 3. And even if it needs at least 3 mana to do that, that's not the good part of it. When it's in your graveyard you can cast it for its Disturb cost which is 3 mana, and now while it's in the field, your noncreature spells can't be countered. This grants you protection for entire combo lines like
Breach Freeze
, which don't use creatures and still manage to put cards in the Graveyard. Even with everything I've said, this card doesn't seem to me to be powerful enough to get into lists that have many colors. Being a counter-creature greatly limits how you can play with him and goes in the opposite direction of what you want from an interaction in your hand.
Conclusion
This set brought some powerful cards, which should bring even more consistency to the decks that use them, as well as cards with the potential to give a little more strength to one- or two-color lists. All this without discarding the old strategies right away.
Stay tuned for more interesting decks and cards! See you soon!