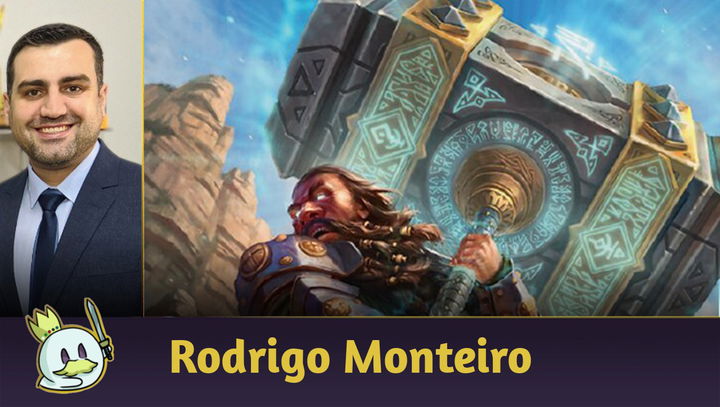 Modern: Hammer Time Deck Tech & Sideboard Guide
08/14/22
1 comments
Hammer Time brings one of the fastest combo-kills in Modern, but with the resilience to have a great beatdown plan on later stages of the game.

translated by Romeu

revised by Tabata Marques
Edit Article
As a brief introduction, I'm Rodrigo Monteiro, a Magic the Gathering player for over 20 years, and today I came here to discuss a deck that has drawn many people's attention - for being a Tier 1 deck that has many positive results and is considered cheap for the format's standards. So if you're looking for a deck to hop into Modern, I highly recommend Hammer Time.
About Hammer Time
Hammer Time is a deck that has several variations, but its main base always remains, being
Colossus Hammer
,
Sigarda's Aid
,
Stoneforge Mystic
and
Urza's Saga
. It's an explosive
aggro/combo
: you can combo with the right cards in the Early Game or go to a beatdown plan with
Urza's Saga
in the late-game.
After
Lurrus of the Dream-Den
was banned, several versions emerged, with Azorius came the addition of
Spell Pierce
for protection and sometimes even to stop a possible combo or some important card that the opponent come to cast, and
The Reality Chip
that often ends up winning the game with a streak of spells from the top. Before Lurrus' ban, the deck was already Tier 1, but soon after, it temporarily disappeared — but it came back with several variations, still without much consistency, which were appearing increasingly in the format, until the UW version became more consolidated.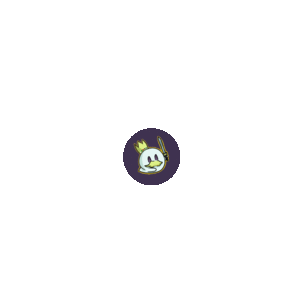 However, lately, the version that has caught my attention and has brought me more positive results in the leagues (close to 65% winrate in more than 130 best-of-3 matches), I will share the list that I made a very positive result in the final Challenge last week.
Decklist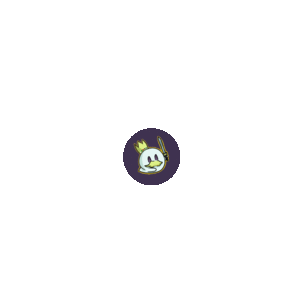 This is a mono-white version, but I don't think it's weaker. On the contrary, in my opinion, it makes the deck less susceptible to mana screw and by not running fetch lands and shocklands, you can mitigate a bit of self-damage, which ends up being important on some games. I believe that the deck has a great variance in the Metagame because it's kind of a "dolphin" strategy: when it's high, people start to focus more on answers against it, then when the deck disappears and the people decrease the hates, it reappears again sometimes with 2 or even more of it in the top 8 of a big tournament. Undoubtedly, it is a deck that is always influencing the Metagame.
Mulligan and Postures
Hammer Time, despite being aggro, is also a kind of combo deck, where Mulligan is a decisive part of your game. It's the kind of deck that punishes average hands — several times you'll have to do what we call "Aggressive Mulligan" where, even though you have balanced Lands and Spells in your starting hand, you should opt for Mulligan given that you must have
at least a short-term game development plan
because if you become dependent on the topdeck early on, your odds of winning drop drastically. I usually separate the most important cards in the deck as "STE" (Search, Target and Equipment):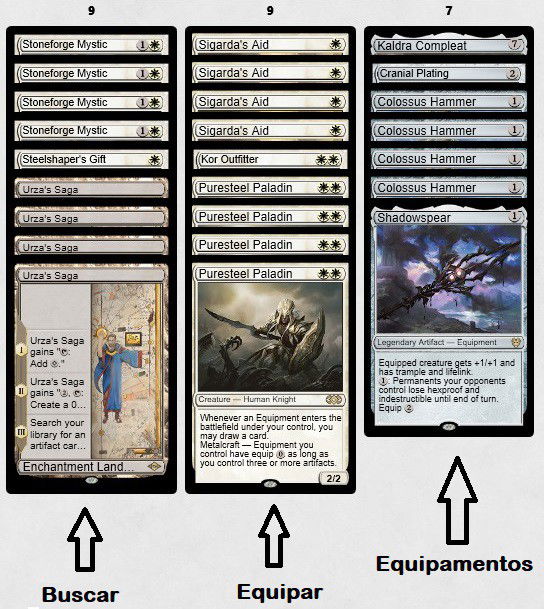 This makes it easier to choose to keep or not with your starting hand, for example: I have an "equipment" and I have a "search", but I don't have a "target". This already makes it a hand that should probably be Mulligan, as being reliant on Top deck for list with zero cantrips is too risky. The perfect hand idea is Lands, "Target" cards and "Search" cards or directly the "Equipment". Depending on your starting hand, even with 6 cards, you can finish the game on turn 2! An example of "God Hand": (
Inkmoth Nexus
+
Springleaf Drum
+ 0-Cost Creature +
Plains
+
Colossus Hammer
+
Sigarda's Aid
)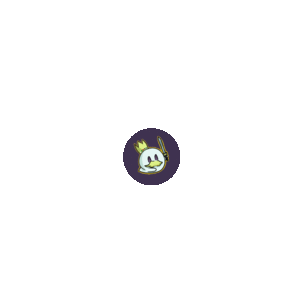 Remember to take a different stance against certain archetypes, for example: if you're going to play against Control decks or lists filled with removals, never go for an all out attack since, despite our deck being explosive, it doesn't need to always win fast. So try to play around removals. Now, if you're playing against an aggro deck with no removals, it becomes a race, so focus on the combo and if necessary search for
Shadowspear
to stay ahead. The midranges are the most dangerous, as they have removals and usually imposes a clock early, so it is recommended to try to go into the combo with at least one protection or in a gap that the opponent gives you (like being tapped out).
Sideboard Guide
Izzet Murktide
This is a very common match, given that Murktide is currently the most popular deck in the Metagame. I consider it a very ok matchup, I have around 66% of Winrate using the following strategy:
Side in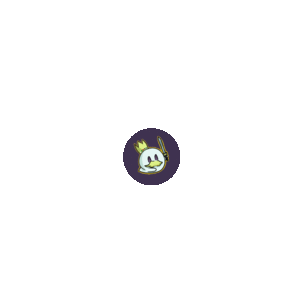 Side out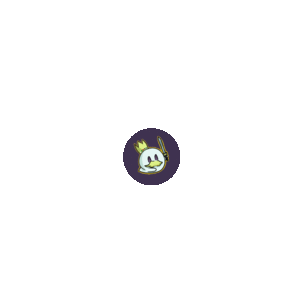 The idea here is to hold off a possible initial threat with
March of Otherworldly Light
before going into the combo. In this case, we have to be cautious because the opponent always has a removal in their hand, so we really need some protection like
Giver of Runes
or, preferably, being able to play
Sanctifier en-Vec
, as our chances of winning increase absurdly if it hits the board, as the opponent can only deal with it playing
Engineered Explosives
and that's why we add
Pithing Needle
to stop this interaction. And so, we can go to the "combo" without major concerns, even having
Sanctifier en-Vec
on our starting hand is almost always a keep, since in addition to being an offensive threat it is also a defensive card, impeding the opponent to accumulate the 4 card types in their graveyard and making
Murktide Regent
very difficult to cast. Note: Always keep an eye out when the opponent is searching for basic Islands, as they will surely cast
Blood Moon
.
Elementals
This is a very delicate game, where your strategy can change as soon as on Game 1. As we know that the opponent has many free removals, sometimes we can opt for a game based on
Urza's Saga
and artifacts on the battlefield, so we will have constant threats, always making a 2-for-1 to difficult the opposing card advantage., considering that many times, they will have to 2-for-1 themselves, having to remove another card from their hand to remove a threat for free with an Elemental.
Side in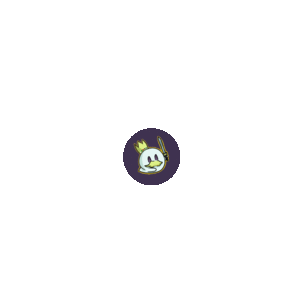 Side out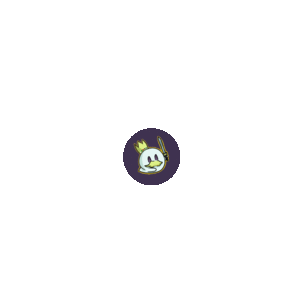 We want more protections for our creatures, and we removed
Kaldra Compleat
since they can easily deal with it. Like I said, we'll be playing more around the opponent's removals, so focus on Urza's plan. If not, go ahead only if you have at least one or two protections or
Mana Tithe
. Every single damage is important in this game, so don't miss attacks for even a turn.
Living End
This is undoubtedly one of the worst Bad Matchups of the deck, I have a negative Winrate of around 40%, which is even higher than the average of players which is around 30%. So if you're on the Play, your odds increase, and you can try to go into the combo before they even cast the first
Living End
. If you are on the Draw, you should observe the number of creatures they are discarding, if it is not so relevant, you can try to go to the
Kaldra Compleat
or
Urza's Saga
plan, having more artifacts on the battlefield.
Side in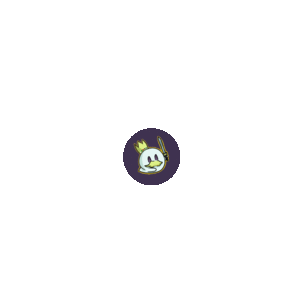 Side out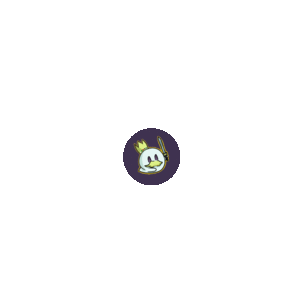 Here it would be if you are on the Draw, as you will play more reactively, always playing around Cascade. Undoubtedly, the best card in this match is
Drannith Magistrate
, as it will prevent the opponent from being able to cast
Living End
through the cascade. And
Mana Tithe
can catch them off-guard, giving you the time you need to find the combo pieces or create some Constructs to end the game. If you are on the Play, you can keep the 2
Memnite
and
Springleaf Drum
and remove 2 more
Giver of Runes
(playing with 61 cards in the deck), making your deck slightly faster and less reactive, having a higher chance of winning between turn 2 and turn 4, before they can cast the first
Living End
. Note: If
Drannith Magistrate
is so good, why not play with 4 copies? For two reasons: 1) You have to focus more on the matches you are most likely to win than on the matches you are most likely to lose; 2) I believe that sideboarding more than 6 cards can compromise our deck's structure for this matchup specifically.
Burn
Here is probably one of the best Good Matchups, although Burn sometimes comes with that unstoppable God hand, most of the time you can hold the initial pressure and get a
Shadowspear
to finish Game 1 once and for all. And other times you are the one who will race them, and as incredible as it may seem, I have a Winrate of approximately 77% in this match.
Side in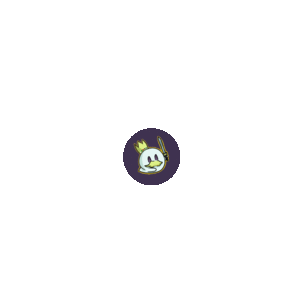 Side out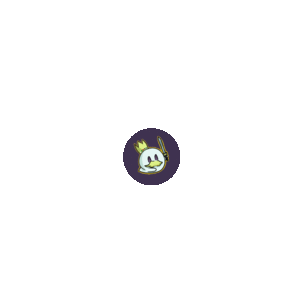 Post-side only has one big problem, and it's called
Deflecting Palm
: that's the card you have to always be playing around, Whenever you have the option of distributing damage with your, it will be better than trying to combo in a single attack if they have open mana. Also, be careful not to leave
Shadowspear
exposed too soon, as it can be destroyed by
Smash to Smithereens
, since this is your biggest asset in this matchup. But playing around these two cards, you're sure to get a great Winrate against Burn.
Yawgmoth
This is a match that people in general have a negative Winrate; however, I have managed to convert many of these matches and I have maintained a Winrate close to 60%.
I believe that the reason for the positive result is to attack the opponent as quickly as possible and to have a knowledge of the main pieces of the opponent's combo, to know the timing to go all out on our gameplan.
Side in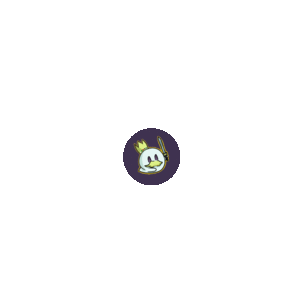 Side out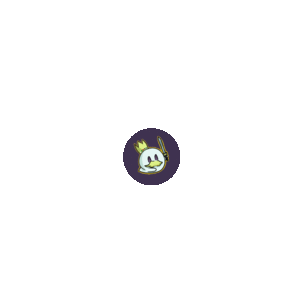 Post-side, know that there will be heavy hate against artifacts on their list (
Force of Vigor
,
Outland Liberator
and often
Boseiju, Who Endures
already in maindeck). But instead of focusing on protection, let's play around these hates cautiously and attack their main combo pieces, since we can go for the beatdown while they will have a much greater difficulty without theirs. If they have the right answers, you will hardly manage to combo on the first turns. Save
Mana Tithe
and
Pithing Needle
for
Yawgmoth, Thran Physician
, but if necessary use
Mana Tithe
on
Force of Vigor
or another powerful hate piece.
Path to Exile
and
March of Otherworldly Light
can be used on smaller creatures that are part of their combo, such as
Young Wolf
. If their hand has good hates, but with a bad manabase, you can even use it on the initial mana dorks to give you the time you need to win the race.
Conclusion
So, that's it, folks! I believe these are the main current Matchups. Please keep in mind that, depending on the deck you're going to face, you should take a different stance, and always play around the hate. Any questions I'm available, just post it in the comments. Thank you very much for your attention.