Edit Article
Hello MTG fans, today I will bring a top 10 for most scary, frightening, horrendous, sinister, terrifying and all-other-scary-adjectives-you-can-think-of artworks!
This is a completely subjective list with the only criteria being to be chill-inducing. We'll look only at old artworks because I think cards from the first sets had way more scary artworks than nowadays.
Honorable Mentions
Before going into our Top10, I'd like to give out three honorable and bizarre mentions.
Juzám Djinn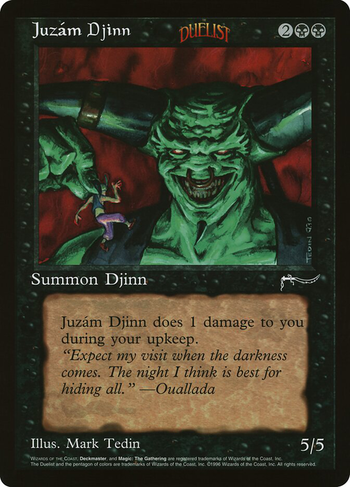 As this list is also a list that is linked to my personal taste, I will start the honorable mentions with a card that has a gigantic nostalgic appeal to me.
When I started playing Magic, around 1996, I looked at the artwork for this card in the Dragon/Inquest Magazines (magazines from the 90s which were our only source to find out card prices) and I got really scared especially with the horns, the pupil-less eyes and this scary smile.
A 5/5 body for four mana even in 96 was very relevant, and this artwork showed this relevancy, as it is a grandiose enormous devil catching a human by the tips of their fingers. An iconic and amazing art, made by the genius Mark Tedin, one of Magic's original 23 artists.
Oubliette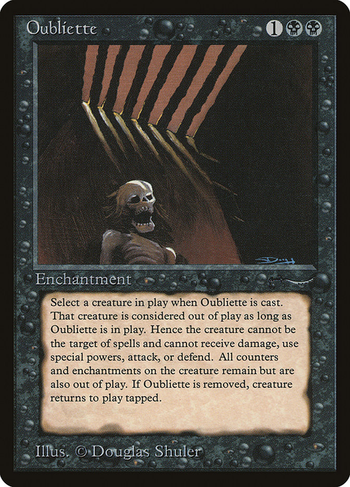 A card very well-known for those who play Pauper Mono Black Control Pauper. Oubliette originally comes from the french word "oublie", which means to forget. It was a cell inside a dungeon, in which the prisoners were kept to be starved and dehydrated to death. These cells were only accessed through a sort of trapdoor that was located quite high inside the prison.
So, this card references an inhuman practice from the feudal times, and for that I couldn't leave it out. The reprint of this card, in Double Masters, is even scarier than the original art from Arabian Nights.
Brood of Cockroaches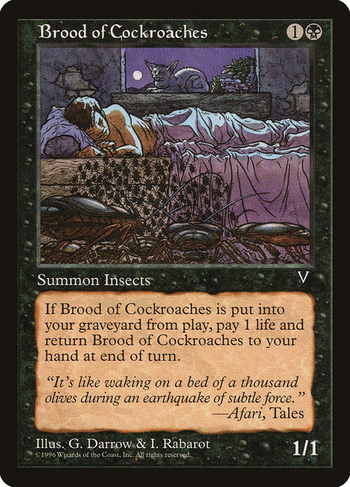 I don't have many issues with roaches, but I know people who get chills by just the thought of one. So imagine dozens of them coming in your bed's direction while you're sleeping!
With so many, some must have wings, don't you think?
10 - Takklemaggot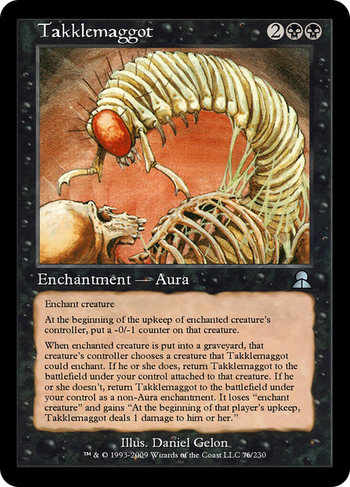 Another card that is very nostalgic to me, as it was the first booster I bought, in a São Paulo west zone corner shop (which still exists!) was Chronicles, and this card showed up to me often.
When I was a kid, I looked at this art and felt disgusted by watching this big larvae coming out of the skeleton all slimy and facing the skull's face.
9 - Sacrifice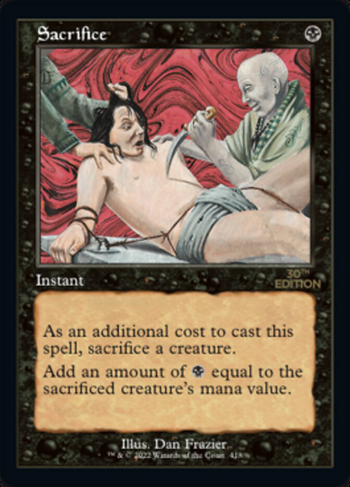 A type of art that Wizards would never release again. I think this type of illustration causes terror in us because it reminds us of the human sacrifices which were a practice of many civilizations all around the world in the past, like the Aztecs and Mayans that used to pull out the heart of their victims alive, or even the cannibal indigenous peoples.
A very frightening artwork from Magic's original set. So scary that this card was spiked (its price went up) because it is part of a reserved list (a series of cards that Wizards promised not to ever reprint), because everyone was sure that even if this card was reprinted, the chance for it to be reprinted with the original art is almost 0 (the 30th anniversary boosters, which reprinted Beta, don't count due to their unusual high prices).
8 - Martyr's Cry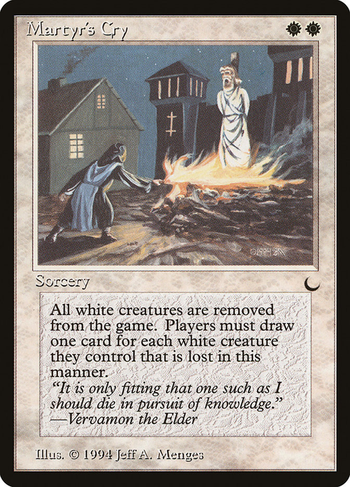 A white card from The Dark set. This set had the idea of bringing a dark theme to Magic, in which even white cards are terrifying, as in this art, which makes reference to the so many martyrs that died for just expressing their faith. A very polemic and delicate theme that Wizards will never reprint again, even more so as this card is from the reserved list
.
The interesting thing is that this card might even see some play in Commander, if you have a token deck and play this magic with the intent of drawing a bunch of cards.
7 - Abomination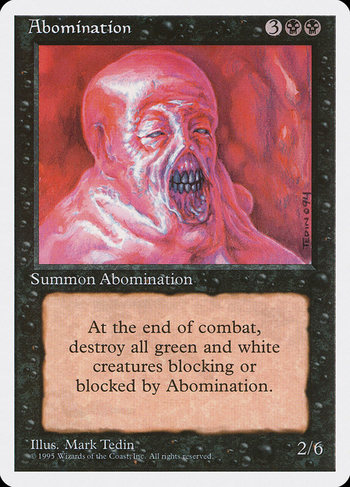 Another card that used to come up a lot to me as a kid, as in the time I bought a lot of boosters and decks from the fourth edition.
In that time, and even today, I think this Mark Tedin artwork is terrifying, a creature that can only be pure evil, all deformed, with this frightening mouth and just a simple but efficient background.
6 - Whim of Volrath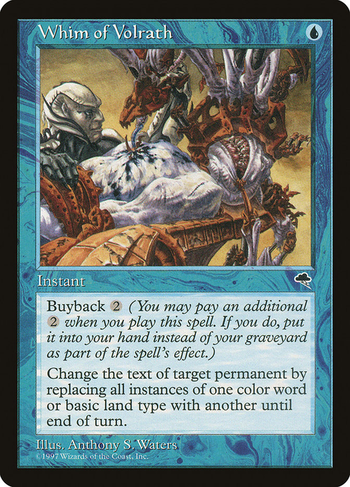 A blue card from Tempest which shows the main villain of this set, Volrath, torturing a creature. What strikes us the most in this artwork is the instrument of torture, which holds mainly the head of the creature, and Volrath's cruel whims which bring a discreet smile to their face.
A card that spiked in price lately due to the combos that were created with it in Commander:
- Composite Golem + Whim of Volrath + The All Form
- Peregrine Drake + Whim of Volrath + The All Form
5 - Mindstab Thrull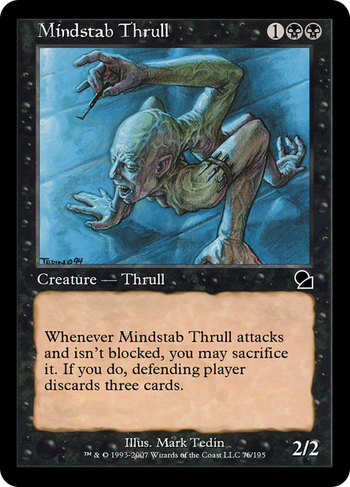 An originally black card from Fallen Empires, but which has this horrible artwork (once again!) by the hands of Mark Tedin in its Fifth Edition reprint.
What a horrible creature straight from Mark Tedin's imagination, with only arms and head, and additional arms coming out of the head holding a scalpel. This monster would fit right in a H.P. Lovecraft or Clive Barker novel.
4 - Amnesia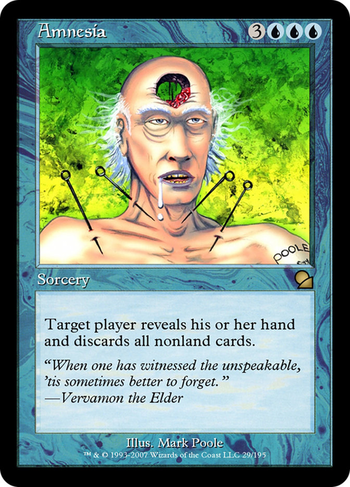 Another terrifying blue card from The Dark set. I even drew it in an Italian booster that my aunt bought me in the old Forbidden store in São Paulo.
As I was still a kid, and the booster was in italian, I didn't understand it enough to figure out if it was good or not, but for many days, I would lose a lot of time just looking at this art, as I found it very frightening, and after all, the person has a big whole in the middle of their head, and the incredible artist Mark Poole even drew in a vegetative expression in their face. To finish it also has some sort of gigantic needles in the neck and shoulders of this human person. Terrifying!
3 - Thoughtleech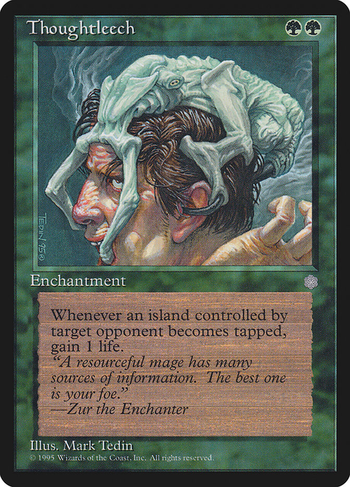 In my childhood, just like fourth edition products, I also bought a lot of Ice Age products, and when I saw this artwork I thought it was the worst thing I had seen so far.
It is a green card depicting a thought leech, and once more the excellent Mark Tedin spared no efforts to make this card truly bizarre, with the creature's pincers going inside the person's mouth, the claws in the ears and a sort of stinger in the neck. Mark Tedin even detailed the face's expression, mostly the eyes, by giving it an air of brainwashing or something like that.
This card was reprinted in the Seventh Edition by one of my favorite artists, Rebecca Guay, which brought us beautiful artwork. I think the people from Magic's art department must've thought to bring in Rebecca Guay for the reprint of this card, as Mark Tedin went too far, and this way they could re-balance the forces of the universe.
2 - Mudslide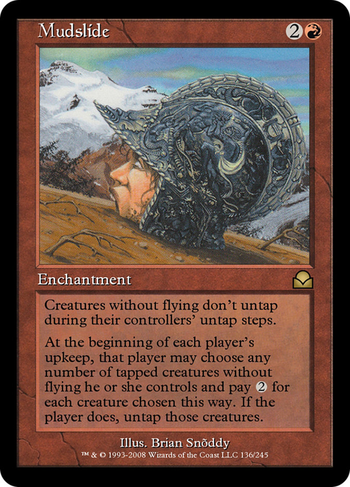 A red card from the Ice Age reserved list which in my opinion is quite nice in Commander, but I never saw anyone use it (maybe because it spiked in price due to the speculation that this reserved list had in the pandemic).
This art needs only to be looked at to figure out why I put it in second place. It is the head of maybe a soldier, with its lower jaw missing, pupil-less eyes, and an expression that makes it seem like they're screaming, like they died suffering. Simply horrible!
1 - Tivadar's Crusade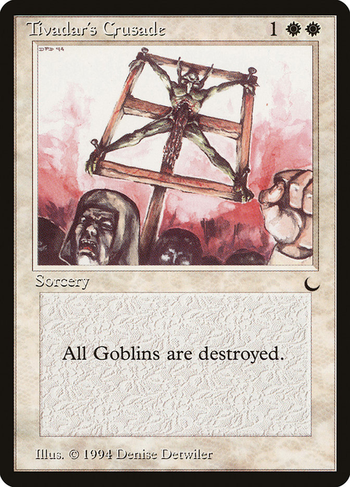 And the first place goes to a white card (yes, white!) from The Dark.
This set has quite a few sinister artworks for white, mixing up polemics such as prosecution and religious extremists, but this one really went overboard. As the card is a global removal for goblins, the artist put in some bizarre people, seemingly beings from the black cards, with that evil air, taking in sort of a crucified goblin (sort of because it's not a cross, it's nailed to a rectangle) with their guts out.
I think this is the most heavy and sinister artwork in almost 30 years of Magic, and in my opinion, if this isn't the most terrifying card, it for sure deserves to be in the top 5.
Some more arts
So many feedbacks obligated me to extend this list a little more. Here more cards that will traumatize you, but it isn't Traumatize.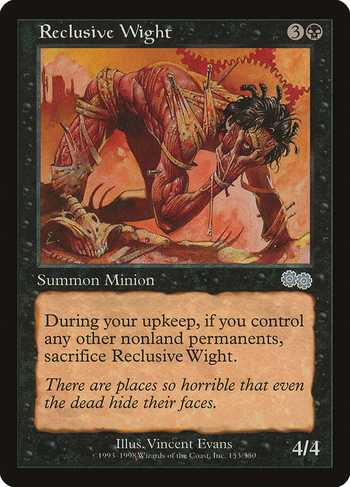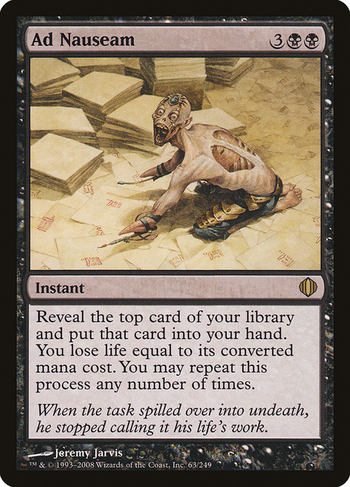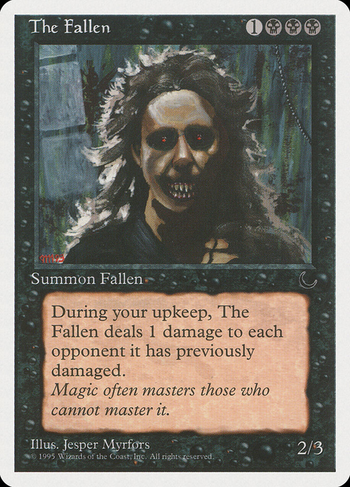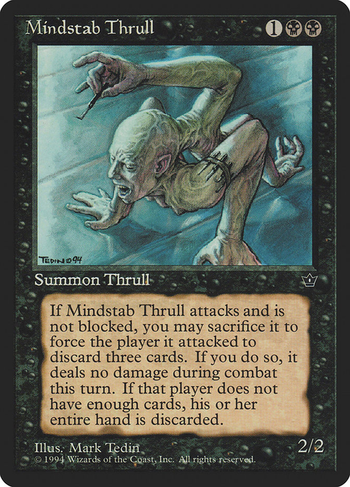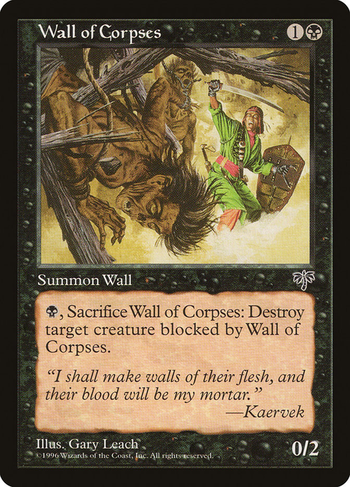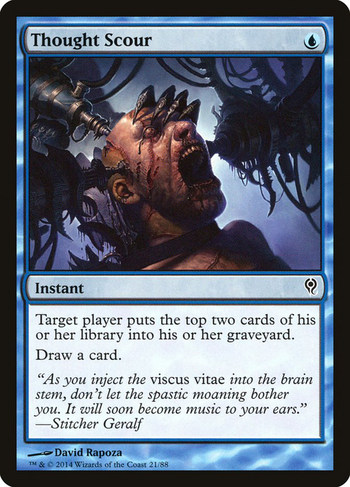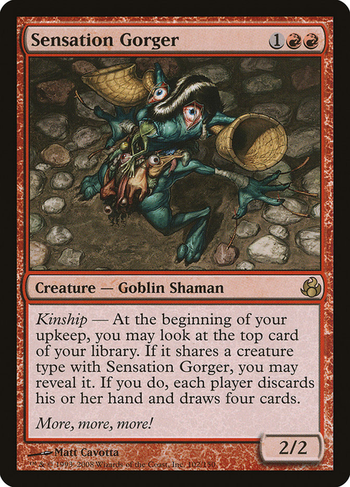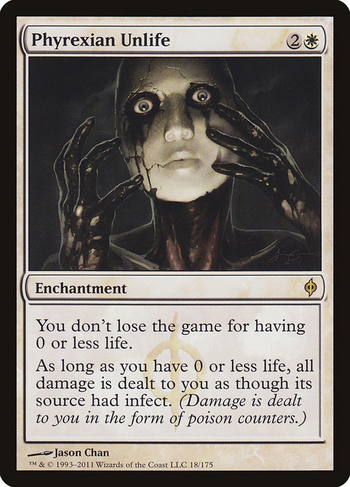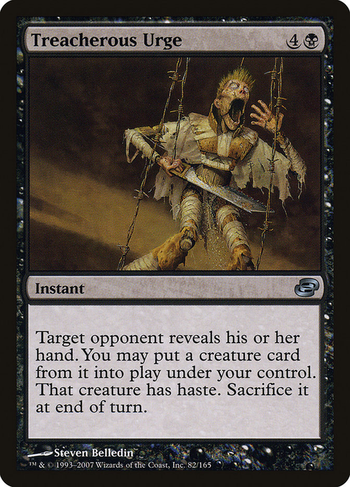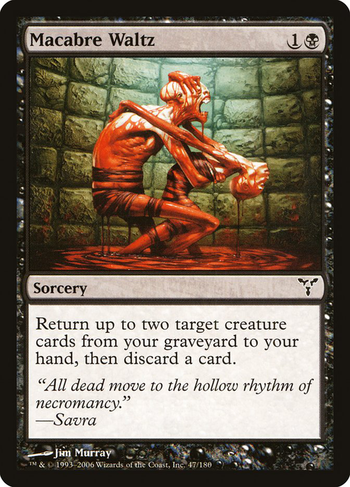 Conclusion
And you were there thinking that Unholy Strength was polemic. For those that are not aware, this card was the main reason religious extremists went after Magic, saying it was a satanist game (the original art for Unholy Strength has an inverted pentagram in the background. In the Fourth Edition set, they reprinted the card with the same art, but excluded the pentagram in the background).
That's it for me today, everyone. I hope you've found these card's artworks to be interesting!
If you have any more suggestions for frightening cards, I'm available in the comment section. Have a nice scare and a nice day! See you next time!