Hello, my dear fans of this wonderful paper card game that causes so many controversies and joyful moments!
Here I brought some similarities in cards for you to laugh at - they might be intentional or not, but they definitely showed up in our cards.
Our known artist Nicolas Cage came by to grace us with his presence: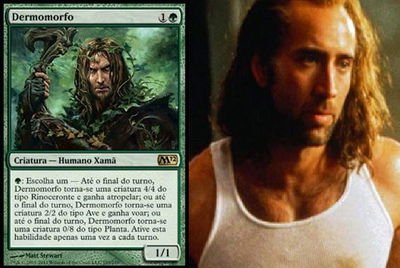 Still very much touching on famous personalities, though from a very different game, they look a lot similar. Directly from League of Legends to MTG, Garen!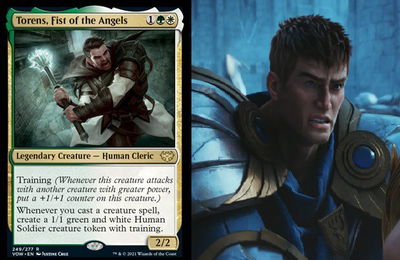 And, at some point, tired of helping people with their sermons and lectures, he is here: famous Brazilian priest, Father Fábio de Melo in Magic cards!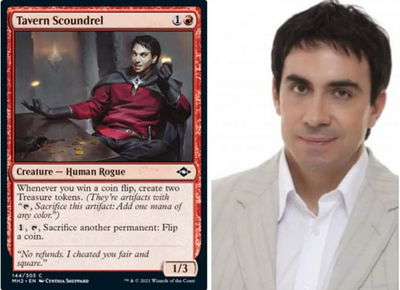 Dracula's castle. It's very similar to Voldaren, don't you think?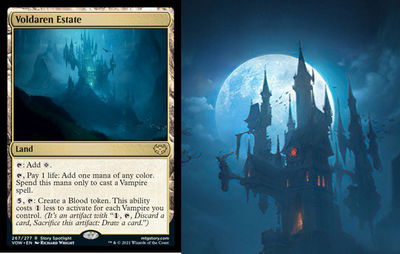 Coming directly from Brazilian Youtube to Magic... Whindersson Nunes!
And last but not least - and equally polemic, considering the stabbing he took, Brazil's ex-president Bolsonaro gives the dagger back to famous Brazilian singer, Renato Russo. For sure this wasn't the artist's intention, but that it looks like it, it does!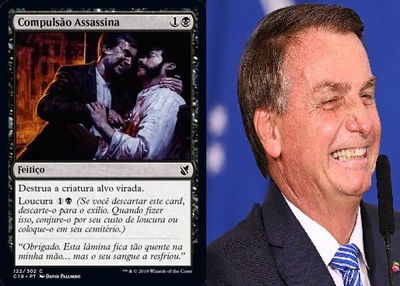 Actor Jim Carrey getting some advice from the backpack kid!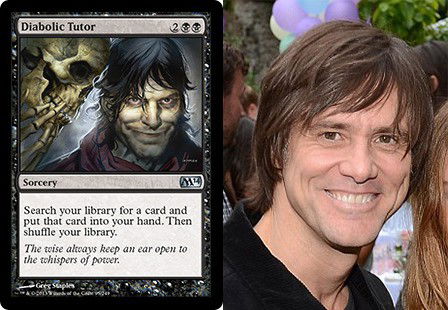 After "The Avengers", actor Samuel L. Jackson decided to take part in 2021's Commander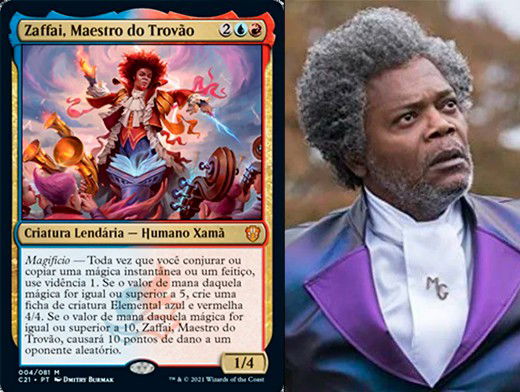 Saffron Olive likes the game so much he decided to tour Magic's world.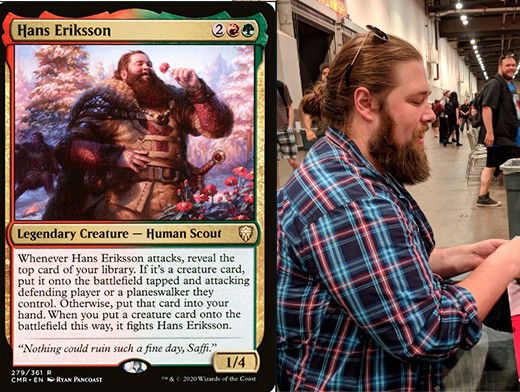 Straight from Avatar: The Legend of Aang to Magic, or vice versa, Prince Zuko.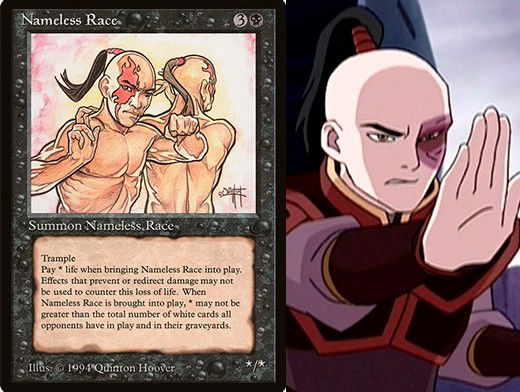 It's impossible to deny that some cards were inspired by TV shows and movies, such as this one that was clearly inspired by David Tennant, the 10th "Doctor Who".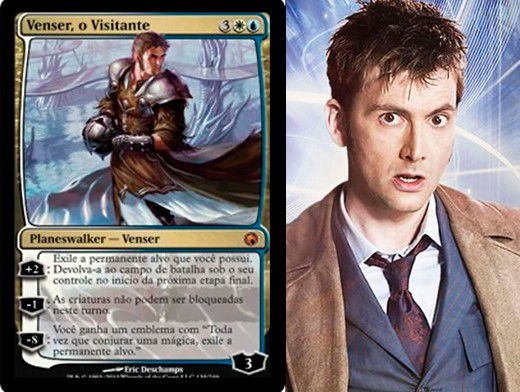 Singer Bret Michaels as Eron, the Relentless, now playing some Hard Rock!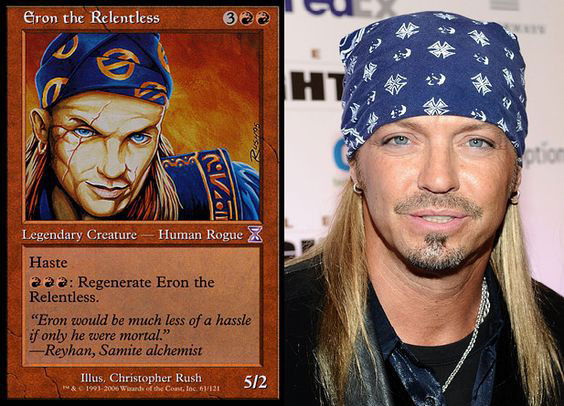 And even at the height of his 71 years, actor Richard Gere didn't escape from getting some representation in Magic: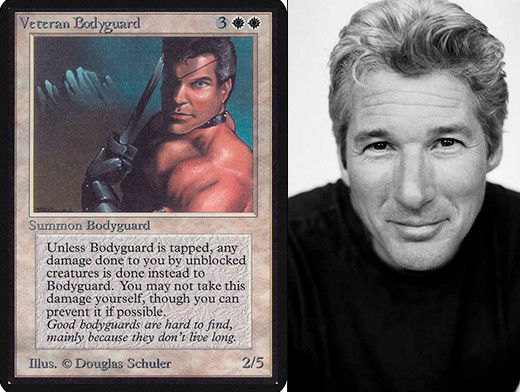 Would it be a coincidence that PleasantKenobi and Circle of the Moon Druid look so similar? I don't think so!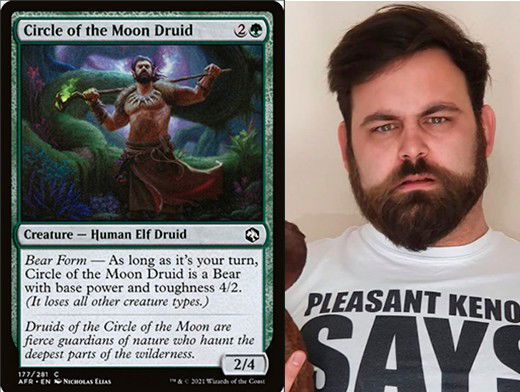 The best one just by looking at it: how can we forget how ex-soccer player Ronaldo Gaúcho toured the world taking part in the weirdest events for a while? Mangara, the Diplomat. He preferred diplomacy to dribbling: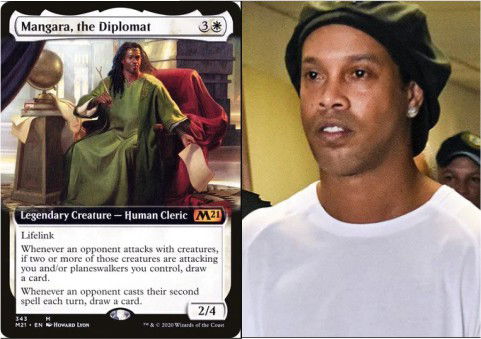 John Travolta as Marhault Elsdragon (it even looks like the actor's portrait):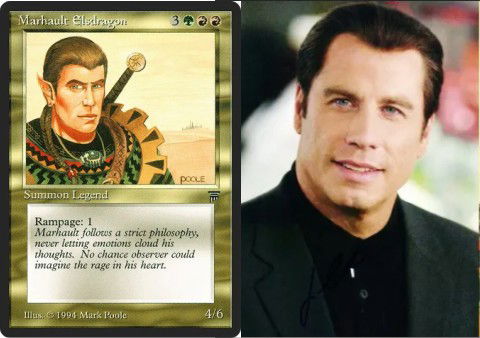 Ex-F1 racer Rubinho Barrichello doing a special cameo in Serra Inquisitors!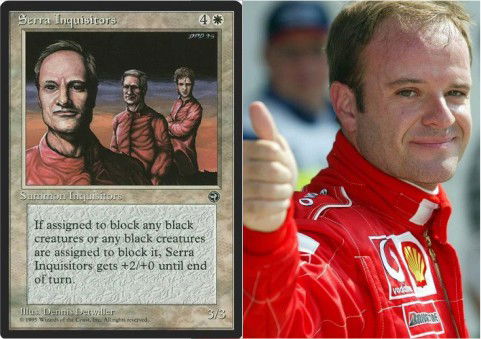 Actor Idris Elba being a great Time Raveler: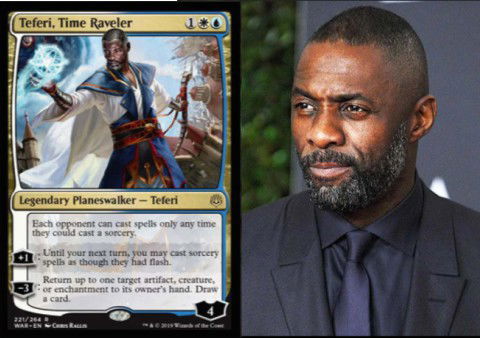 Chuck Norris, the man himself, the legend, the myth, appearing here in Shielded By Faith. After all, any card would be too weak for him, regardless of power level!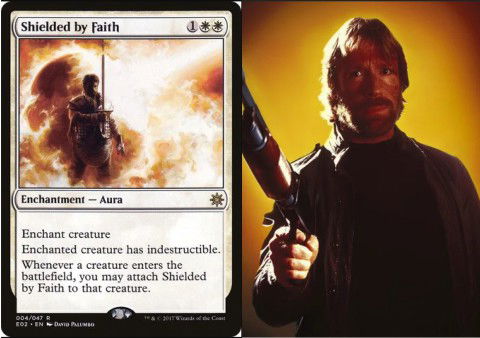 Actor Ken Jeong - does anyone remember the movie "The Hangover"?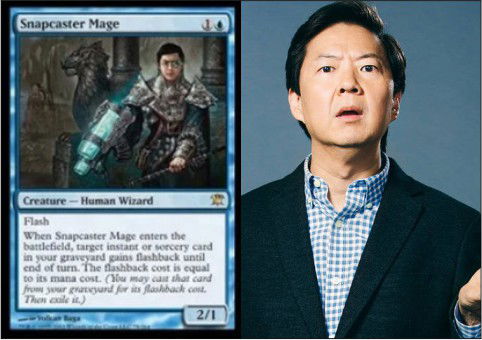 Actor Evangeline Lilly as Nissa!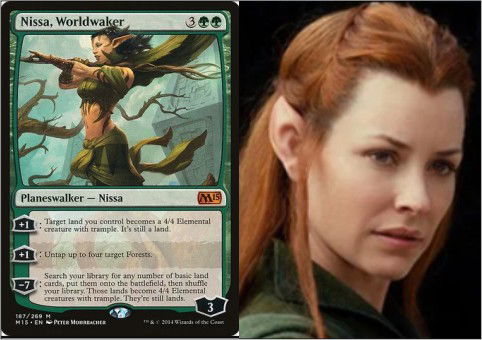 Brazilian Actor Christiane Torloni as Burning-Tree Emissary (they are even posed the same. Coincidence? I think not!)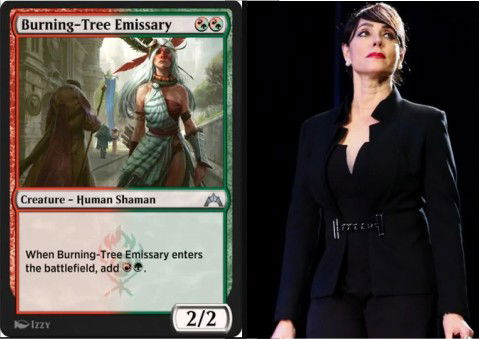 Have you ever imagined Gideon as Aquaman? Actor Jason Momoa might just have done it here in the card Gideon's Judgement!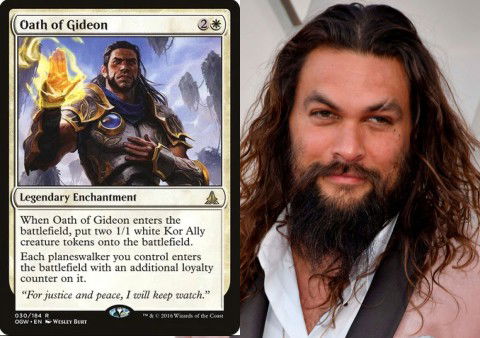 Actor Angelina Jolie (cosplaying as Malevolent):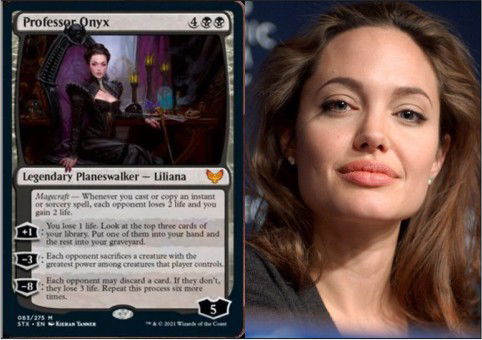 Coming directly from Brazilian politics, ex-president Michel Temer: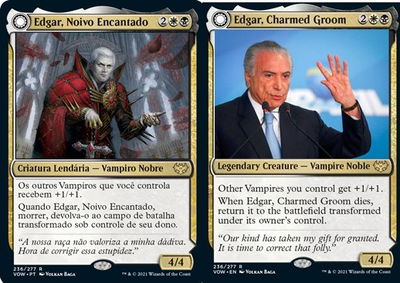 And, to give him somewhere to live too, he couldn't go without his famous coffin: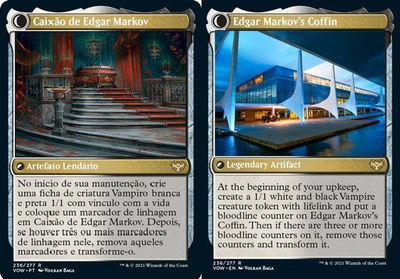 And to finish, Actor Brad Pitt!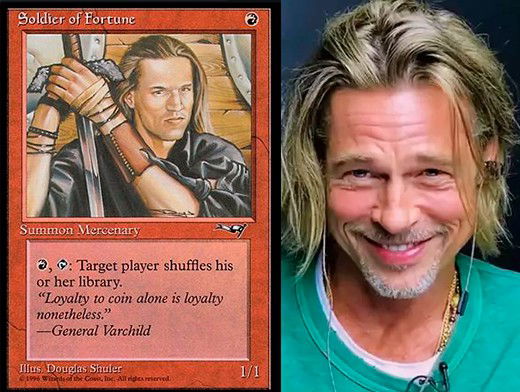 Bonus: In the honor of famous Brazilian comedy show, "A Praça é Nossa", this Teferi made Brazilian comedian Jorge Lafond eternal!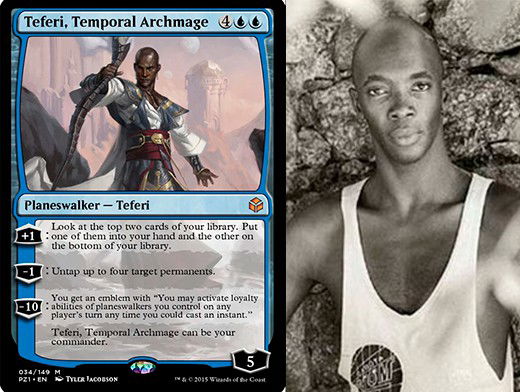 Final Thoughts
So, did you like these comparisons? Do you know any more I haven't listed here? Help me add to this article by giving me more ideas of similarities!