More details about one of MTG's most unusual and loveable promotions are here! Earlier this month, keen-eyed fans of the card game noticed a familiar face in their local stores as they shopped for groceries: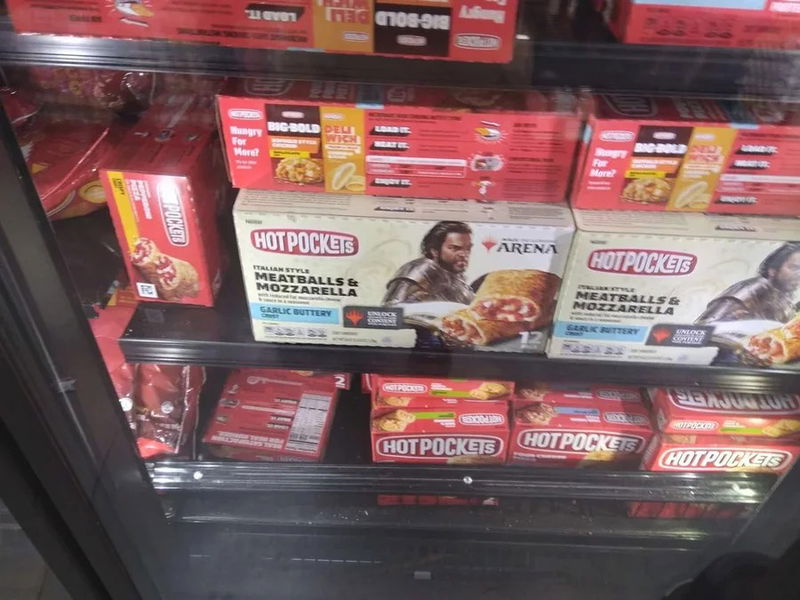 A few other players pointed out that besides Gideon, Jace and Chandra appeared to be promoting the delicious snack, Hot Pockets as well. Where were the rest of the colors? Which characters were we gonna see next? Which rewards for buying this deliciousness could we count on? Many questions plagued our minds, but we here at Cards Realm managed to secure an interview with the Hot Pockets company and ask further details about this unlikely pairing which is proving itself to be even cuter than Thalia and The Gitrog Monster:
"As you may have seen already, there's some news around Hot Pockets and Magic to share! In celebration of Magic: The Gathering's 30th anniversary, Hot Pockets is teaming up with the legendary card game to fill fans' virtual hot pockets with custom in-game content."
Any fans of both parties in this incredible partnership can use their receipts to redeem special codes, by submitting pics of the receipts to the HotPockets.com/MTG website. The rewards include custom content on Arena.
Stackable Rewards
- A themed deck featuring Vivien on the Hunt;
- A new Vivien planeswalker avatar;
- New Vivien planeswalker card sleeves;
- 2,000 experience bonus for your Mastery Pass, (as well as the IRL reward of the delicious flavor of Hot Pockets that you don't have to Pay One for).
More details can be accessed on the main website.
Which characters can we expect to see next?
Currently, we know we can spot white, blue, red and green packaging, each with their own character: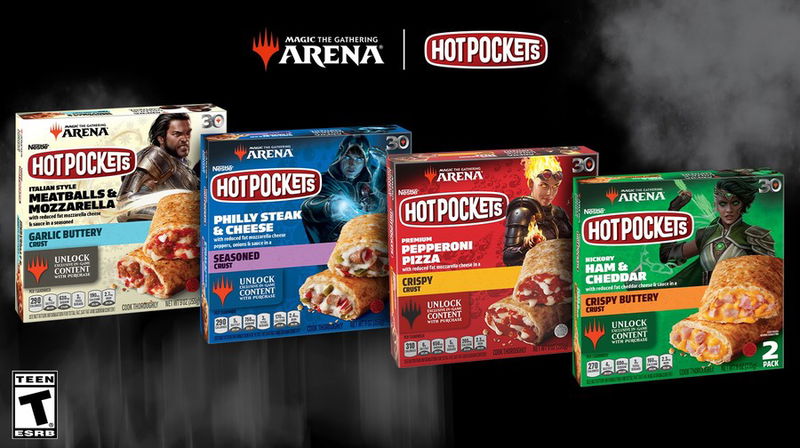 White Mana / Gideon = Hot Pockets Italian Style Meatballs & Mozzarella
Blue Mana / Jace = Hot Pockets Philly Steak & Cheese
Red Mana / Chandra = Hot Pockets Premium Pepperoni Pizza
Green Mana / Vivien = Hot Pockets Hickory Ham & Cheddar
Any spoilers about the Black Hot Pocket? Like a Chocolate Hot Pocket?
"Nothing we can share yet, but fans are encouraged to stay vigilant for when this new box, veiled in secrecy, drops in May, exclusively at participating Walmart locations across the country. We'll be sure to stay in touch with you through all the 30th anniversary celebrations between the two brands coming up throughout the year."
Whose idea was it? This was a fantastic idea!!!
"The idea was from both HOT POCKETS and Magic: The Gathering, to celebrate Magic: The Gathering's 30th anniversary and to fill fans' virtual (hot) pockets with custom in-game content."
For how long will the campaign run?
"The custom HOT POCKETS and Magic: The Gathering packaging and the opportunity for exclusive in-game content will run until June 30, 2023, with more 30th anniversary celebrations between the two brands coming up throughout the year."
Which countries will have the opportunity to Taste Hot Pocket?
"Confirming the program is US, 16+ Terms apply. For more information and a full look at the available custom content, check out HotPockets.com/MTG."
If you can, don't miss out on this delicious opportunity to feast your stomachs on something delicious and get something for MTG: Arena while you're at it! Will you be able to spot the first black mana Hot Pockets in existence?