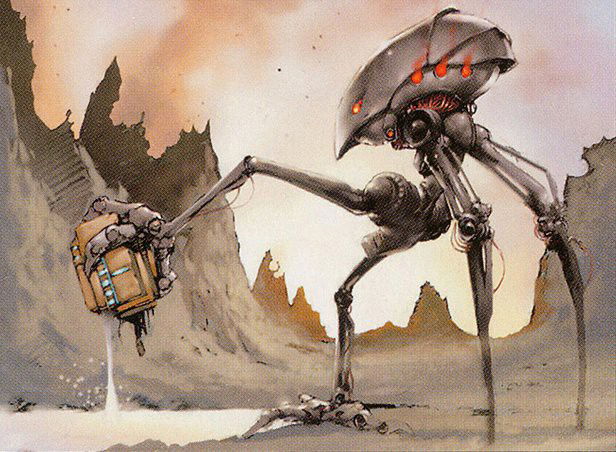 There's no Omelet without Breaking the Eggs
Double Masters brings a new archetype for Pauper
By Humberto, 08/03/20, translated by Exylem -
0 comments
Edit Article
Ah... Master sets! Master sets have a special value for Pauper players: The special sets always bring new good additions to the format which tends to impact the metagame in a significative manner, adding new options to already existing decks like when
Augur of Bolas
and
Burning-Tree Emissary
entered Pauper, or when allowing and creating new archetypes which become part of the metagame, which was the case with
Seeker of the Way
giving the little push forward that Mono White Heroic needed to become a deck.
There also exist those unhappy although recurrent cases when the printing of a card creates a new archetype or allows an archetype in an unbalanced way in comparison to the rest of the format, leading to bans. The best example is still
Peregrine Drake
. Master Sets are also the perfect opportunity to reprint cards that need a higher availability on the format. And, speaking of reprints, Double Masters is the magical Christmas lands for Pauper when it brings back Urza's lands,
Thraben Inspector
,
Chromatic Star
and, that's right,
Oubliette
. However, today's article discusses an specific cards from Double Masters which will be introduced to the format, and how it has a long history with a certain archetype: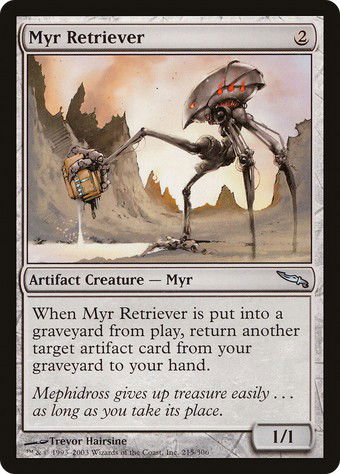 Have you ever heard of Eggs? Maybe... KCI? Eggs and KCI were known decks (and now, banned) of Modern for being combos which demanded constant and relatively complicated processes of repetition in it's actions in order to win the game. Both archetypes were great dividers of public opinion and, in general, created a negative experience when watching a stream or playing against them because of the excessive time used to repeat the same actions to finally win the game, besides the speed and consistence of the combo. The archetype was also known in the community for being a divider between good and average players, as it's results weren't too extensive even when the deck was recognized as the best of the format, because of the complexity of it's playing startegy and how a slight missplay was extremely punitive and could end the game on the exact moment it happened. An essential part of this combo was always how consistent you can return artifacts from the graveyard back to the game, or the possibility of creating a repetition process which would lead to a victory. And, usually, this is the part where
Myr Retriever
was really important before
Scrap Trawler
was released in Aether Revolt. However, being now received through open doors on Pauper, Myr Retriever finds it's own version of
Krark-Clan Ironworks
on the format: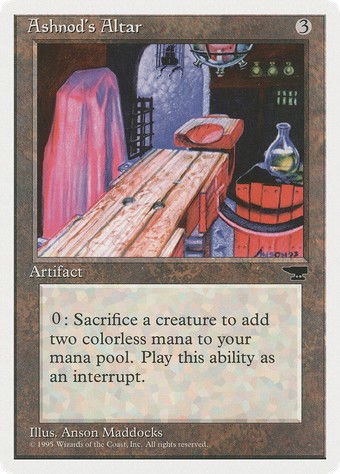 While having two Myr Retriever, even if one is on the graveyard and the other in your hard, and one
Ashnod's Altar
, you may sacrifice Myr Retriever to generate two colorless mana. When Myr Retrievers dies this way, it returns an artifact from the graveyard to your hand: You may choose another Myr Retriever in your graveyard (or another artifact, if you have the second Myr Retriever on the battlefield or in your hand). Using the two mana generated by the Altar, you can cast another Myr Retriever and and, when you sacrifice it, you can target the other Myr Retriever you just sacrificed which is now on your graveyard. Profit: We now have an infinite loop of ETB/Death Trigger. The question is how can we make use of such interaction in a format like Pauper? Well, maybe this list is a good start: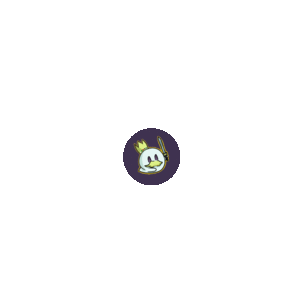 "One can't expect to make an omelet without breaking eggs" is probably the most famous phrase attributed to Max Robespierre. But the omelet we are now making here is based on mana, golems and infinite damage. To explain how this list works and the complexity of it's plays, I believe it's better to organize it in 3 parts: The Engine, the Eggs and the Interactions. 1- The Engine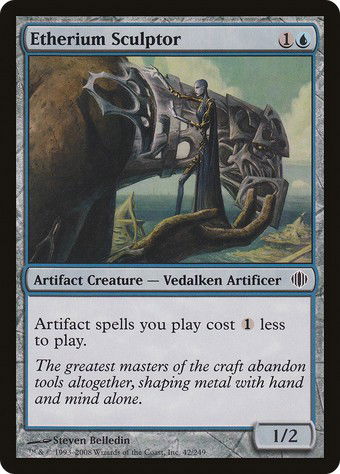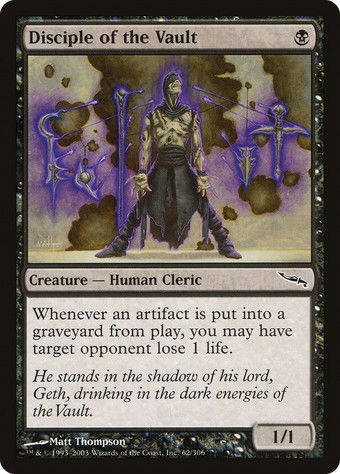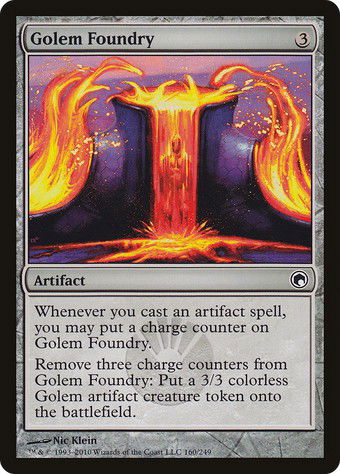 Using 4 of each one of these cards, we have a sufficient number of cards which receive advantage from this new interaction of Myr Retriever and Ashnod's Altar. With
Disciple of the Vault
, you have damage, or even better, infinite loss of life through the Death Triggers. With
Golem Foundry
, you can generate an infinite number of 3/3 tokens because you are casting artifacts in a loop. And with
Etherium Sculptor
, you are capable of generating infinite mana. I don't usually appreciate infinite mana combos if we don't have the means of gaining advantage from it, but Etherium Sculptor and the other pieces of this combo have another essential function on this list: 2- The Eggs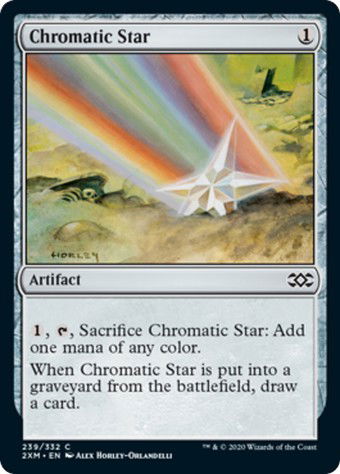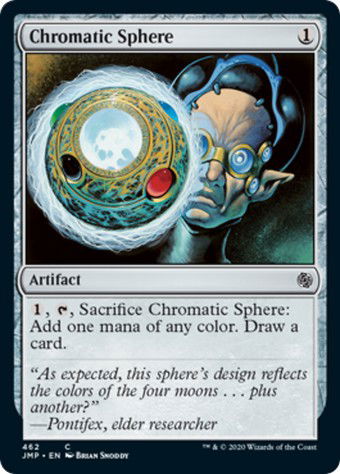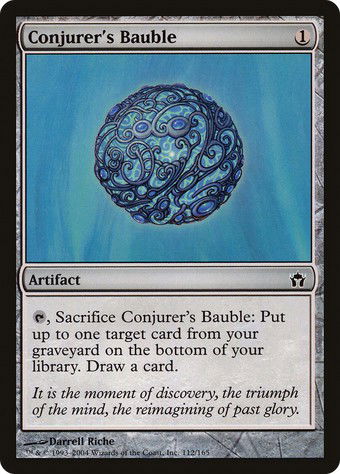 And here are the omelet's eggs. Etherium Sculptor interacts very well with cards known as "eggs": Artifacts you use to generate mana and/or draw cards when you sacrifice them. That's because, when you reduce the cost of these artifacts by one mana, the majority of them start costing 0 and started being playable for free, creating a draw engine which may work for a good amount of time, allowing you to find any pieces you need to complete the combo. In addition, all Eggs interact well with the other pieces of the engine and help in fixing the manabase in the best possible way. Although it doesn't cost one mana, I highlight
Golden Egg
as an important card for this archetype as, in addition to drawing a card, it is also capable of being sacrificed in order to survive one more turn against aggressive decks. And on this deck, each turn counts in an essential manner. 3 - The Interactions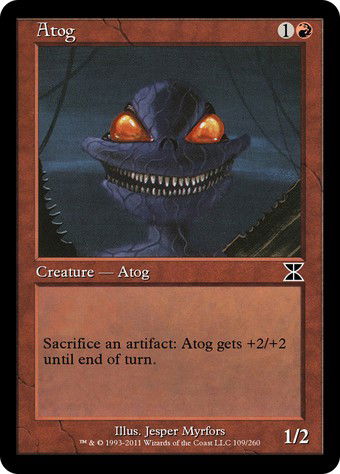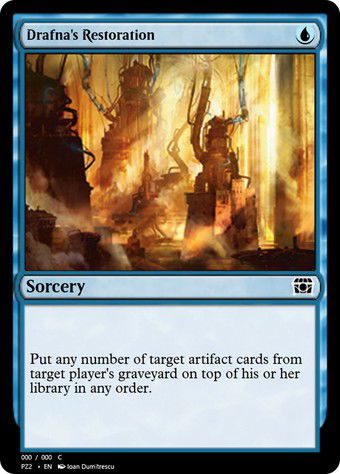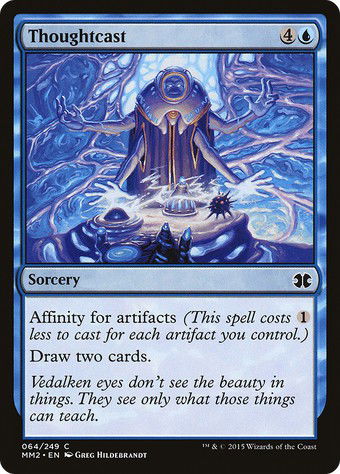 It is essential that the decks don't focus only on the combo, because it is easily disrupted. Thus, it is necessary to think about other types of interactions which fits the deck's objectives.
Atog
and
Drafna's Restoration
are on the list because of their interactions with
Disciple of the Vault
and
Golem Foundry
.
Drafna's Restoration
allows for any number of artifacts to be fetch from your graveyard to the top of your library, in any order. This card, if combined with
Etherium Sculptor
, allows you to, on the next turn after casting it and with just one mana, draw and re-cast all artifacts you had already sacrificed and used during the game, allowing for many triggers of Golem Foundry and Disciple of the Vault in a single turn.
Atog
and the inclusion of artifact lands to the deck are related to another interaction: Sacrificing artifacts on the battlefield to do damage with one or multiple Disciples of the Vault. And, of course, Atog may attack and win the game by itself when sacrificing a lot of artifacts, although it is very hard for it not to be blocked or removed before the lethal damage happens. However, it's exactly because of this possiblity that Atog also collaborates in a context known in Magic as "False Tempo": A situation where the opponent tends to hold his/her more efficient tools and plays in a more conservative way as to not lose the game for a determined combination of cards, like Atog +
Temur Battle Rage
, on the next turn. It's worth remembering that, if you opponent knows what he/she is playing against, the matchup against Eggs tends to be dictated in a context of False Tempo if the opponent doesn't have an immediate answer to Etherium Sculptor. In a deck with this many artifacts, it makes sense to use
Thoughtcast
as an additional cantrip which helps to find more pieces to continue the looping process. In my initial tests with the list I could realize that the combo is real, and it is relatively complicated to deal with everything the deck does, but it simply doesn't interact with the opponent. It has potential to win on turn 4 or 5, but it is very vulnerable to counters, removal or simply the beatdown from an aggro deck like Stompy or RDW. In addition, this is a deck that is very vulnerable to hate, and it has serious difficulties to get back to the game if it becomes target of a removal on an specific piece or a
Relic of Progenitus
during the process. The deck has behaved very well against other decks which don't interact much or that take a long time to gather pieces to control the game: For instance, in 5 matches against Tron, 3 being without a Sideboard and 2 with a Sideboard, I lost just one of them. Especially because it's necessary to be patient with this list and complete the combo on the right moment. On the other hand, although it looks like an All-In Combo, Eggs can operate in a fair way and win games without needing the infinite loops thanks to the tokens created by Golem Foundry, which is much more hard to answer, or the interactions with Disciple of the Vault, where the opponent tends to refuse to waste removal spells on a seemingly inoffensive 1/1 creature.
Another point to consider is that, literally, there are too many cards that need to be answered by the opponent. Of course, killing an Etherium Sculptor greatly delays the game plan, but if the game drags on to the point that I can play another Etherium Sculptor and/or not needing it anymore because I have an engine ready with the other cards, the opponent will still be in a very disfavorable position. I would like to mention that my sideboard version bizarrely generalized probably is far from being the best option for the deck, as I could only think about cards to protect my permanents and/or keep me alive long enough to win the game. In addition, it's extremely hard to sideboard with this deck, because you don't want to remove too many pieces of the combo or you run the risk of not being able to make the combo work in the desired way. Most of the time I removed some egg artifacts and/or some number of Altars/Myr or Drafna's Restoration/Atog so I could allocate some protections to the deck. My final consideration is that the success of Eggs depends a lot on how interactive the format is towards it and, if it becomes popular, the rise of cards like
Gorilla Shaman
on the sideboards tends to put it on check and lowers it's popularity. Thus, I end my introduction to the newer potential combo deck for Pauper. I would like to close this article by making a short analysis of other cards which have entered the format through Double Masters and which have potential to see play: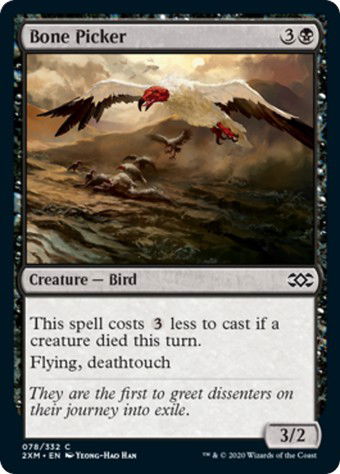 The famous "black Delver" is among us. And in a format based on creatures and on the color which has the most removal spells on the format, it's still very likely that you will cast it for only one mana. Bone Picker is a card with potential, but one that I still can't elaborate on where or how it may be played. See, it is an aggressive drop on black decks which may literally block and kill any creature for just one mana. Decks like Aristocrats will surely try to make use of Bone Picker and it may be a great addition to the archetype. However, black is the color with the most number of removals in the format and we shouldn't discard the possibility of the card existing in decks like Suicide Black or even UB Delver. I don't believe, however, that Mono Black Devotion will want to trade it's sequential plays for this card. I also don't believe UB Delver wants this creature or has interest in swapping Delver for Bone Picker. On the other hand, as we are talking about removal...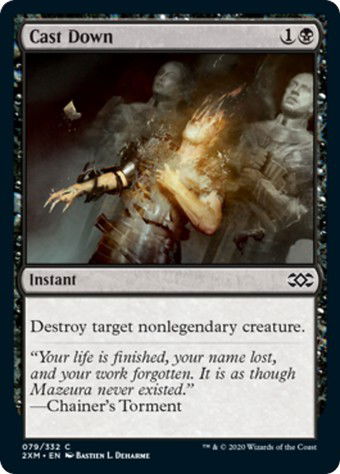 In my private point of view, this is the greatest addition from Double Masters to the format.
Cast Down
in Pauper is essentially a monocolor splashable
Terminate
. This is the card every midrange black deck will start using, and even other decks which splash black may see use of this card between maindeck and sideboard.
Although this addition is extremely beneficial to black midrange decks, it also damages the archetype or, more specifically, the
Gurmag Angler
. The greatest potential of Gurmag Angler, besides being a 5/5 that can be cast for just one mana, always has been it's capacity of dodging the vast majority of removal spells and forcing a 2 for 1 to kill it. Cast Down finishes this problem on black and joins
Journey to Nowhere
and
Oblivion Ring
as commonly used removal which solve the big fish without forcing a 2 for 1.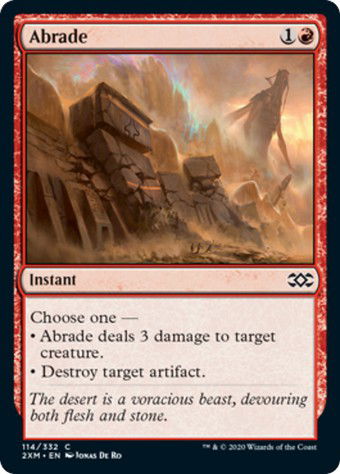 Abrade is the recognition of a significant increase of Pauper's power level. And, initially, I considered it the greatest addition to the format. However, Abrade's impact on the formats it is played on are formats where artifacts which need to be destroyed are very specific and are worth the 2 mana cost for it to be casted. On Pauper, things are a little different: Since there are few cards like
Bonder's Ornament
or
Prophetic Prism
which justifies the inclusion of Abrade to the sideboard or even to the maindeck. The main artifact decks on the current metagame are much more threatened by cards like
Shenanigans
and
Gorilla Shaman
. And, although Abrade's versatility may serve both as an artifact hate or as a removal spell, I don't know if any of these effects is worth two mana without any other kind of benefit. However, I make it clear that this card is very important against Boros Monarch and Tron, and will likely see play on the maindeck or sideboard of both archetypes as a way to deal with
Kor Skyfisher
and
Bonder's Ornament
with the same slot. Double Masters is coming, and the cards are already valid to be played on MTGO. On the next weeks, we will see the results of the impact of the new set on the metagame. Until then. Stay Safe, Stay Home.